Arm Candy by Jessica Lemmon: Davis is smart, charming, gentlemanly, and oh so sexy in his many suits. He loves his work as a stock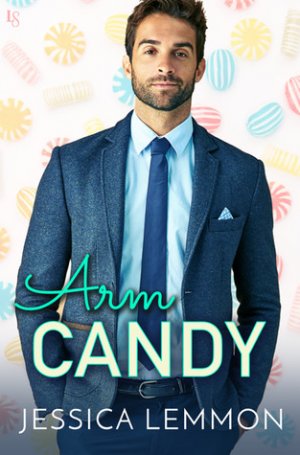 analyst and enjoys taking calculated risks at work while carefully guarding his heart. Ever since a brutal break-up, he's decided to only bed blondes. Commitment and relationships are off the table, but he's more than willing to offer one of his specialized short-term packages if you're a blonde.
Grace never wanted to be a lawyer like her parents and instead found her calling as a bartender. She loves working behind the bar, but has no need for many pick-up lines she receives from their customers. She's a smart and sassy redhead who can hold her own and has turned turning down men into an art form. She doesn't believe in love or marriage and has a history of short relationships where she usually walked away before she could get hurt.
Davis is a regular at the bar where Grace works and she's well used to seeing him in action. They don't particularly like each other, but the attraction is clear for anyone to see. It's an antagonism born out of attraction until they simply can't fight it anymore.
"I have enough habits," I tell her. "I'm shaking things up a bit."
Her easy smile falters before she recovers with a turn of quick wit. "You want shaken, baby, you've come to the right girl. I'm a professional mixologist, don't you know?"
"Oh, I know."
As two commitment-phobes, their arrangement seems like the perfect plan to work this pesky attraction out of their systems. Except it's more than just lust. Davis and Grace banter and challenge each other. They struggle with their growing feelings as they spend more time together.
HIs eyes grow warm, long lashes dipping low as his mouth spreads into a slow smile. "Are you staying?"
"Why?" My eyes go to the screen. "Going to have nightmares if I don't?"
"Possibly. I have a nightlight, though, so don't feel pressured to stay if you can't manage."
Arm Candy is sexy and fun. Jessica Lemmon created an entertaining opposites attract story with a great balance in the funny, sexy, sweet, and serious moments. Ms. Lemmon provided a rich cast of supporting characters. Arm Candy can be read as a standalone in the Real Love series. Fans of Lauren Layne and Sydney Landon will enjoy Arm Candy.
Book Info:

Publication: September 5th 2017 | Loveswept | Real Love #2
Last call! At the end of the night, a clean-cut hunk and a rebellious bartender act on their unlikely chemistry in this frisky standalone novel from the author of Eye Candy.
Davis: I've had my eye on Grace Buchanan for a while now. Unlike the bubbly blondes I usually date, the feisty, flame-haired bartender both intrigues and bewilders me. Something about Grace—the tattoos? the nose ring?—makes every part of me sit up and beg. There's only one problem: She hates me. Trading insults and one-liners has become our M.O. But when Grace bets me that I can't get a date with a non-blonde if my life depends on it, I'm determined to prove her wrong by landing the ultimate non-blonde: her.
Grace: I'm used to regulars hitting on me, and I've turned them all down, except for one: Davis Price. I like giving him a hard time, and he's kind of cute in his suit and tie—if you're into that kind of thing. Anyway, I don't care how many blondes he takes home . . . until one of them sidles up to him in my bar. Nuh-uh. But after my little bet with Davis backfires, our first date lands us in the sack. So does the second. And the third. Neither of us wants more than the best sex of our lives. The trouble is, it's not a question of what I want. It's what I need. And what I need is Davis.