The Beach Trap by Ali Brady: In a throw back to the Parent Trap, or at least a good attempt at a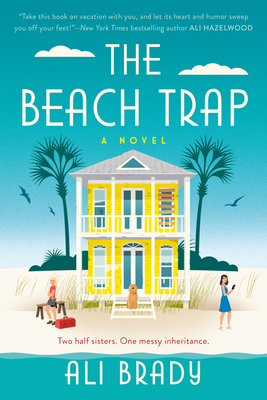 reminisce, Blake and Kat fall in friendship love at Summer camp as 12 year olds; both alone for the first time, and both slightly introverted in the sense that neither make friends easily. And for what was love at first sight, turns very quickly into life shattering heartbreak – the dad that abandoned Blake and her mother is the same exact dad that collects Kat early from camp because her Grandpa has passed.
With a flash forward of 15 years, both women are still struggling to reconcile their half-sister reality, and like a wound that won't heal, both are forced to rip off the bandaid when their father dies and leaves them with a shared gift in his will.
The initial prologue, whilst setting the scene for the events to come, appeared out-of-sync slightly, the writing stilted and the premise far-fetched. As time and chapters pass however, the narrative develops and an awesome romance saves the day. Blake, with little choice but to accept a house-keeping job in Florida develops an immediate physical attraction to Noah the gardener – who was well drawn and sexy as hell.
Similarly, as fate brings Kat back to Florida and her childhood memories, an unlikely romance develops between herself and her summer friend Henry. Unfortunately though, sharing their father's parting gift, a blood line and some special memories from Summer Camp is where the similarities end for our sisters. Blake, hard working, even tempered and loyal, Kat, shallow, self-absorbed and frankly unlikeable.
For the most part, the differences between the two central characters served to underpin their motivations and actions, but given they were exaggerated slightly much page skipping ensued with the narrative voice shifted to Kat. And whilst it rolled into a really lovely ending with a fairly poetic happily ever after, Kat's characterisation was at times irredeemable.
All in all, a good summer read that explores the complexity of family while reminding us that assumption is the enemy of empathy, and looking forward is better than what exists behind us.
Book Info:

Publication: 14th June 2022 | Berkley Books |
When twelve-year-olds Kat Steiner and Blake O'Neill meet at Camp Chickawah, they have an instant connection. But everything falls apart when they learn they're not just best friends—they're also half-sisters. Confused and betrayed, their friendship instantly crumbles.
Fifteen years later when their father dies suddenly, Kat and Blake discover he's left them a joint inheritance: the family beach house in Destin, Florida. The two sisters are instantly at odds. Blake, who has recently been demoted from regular nanny to dog nanny, wants to sell the house, while social media influencer Kat is desperate to keep the place where she had so many happy childhood memories.
Kat and Blake reluctantly join forces to renovate the dilapidated house with the understanding that Kat will try to buy Blake out at the end of the summer. The women clash as Blake's renovation plans conflict with Kat's creative vision, and each sister finds herself drawn into a summer romance. As the weeks pass, the two women realize the most difficult project they face this summer will be coming to grips with their shared past, and learning how to become sisters.