In The Billionaire's Convenient Secret (Barefoot Bay Kindle World) by Leigh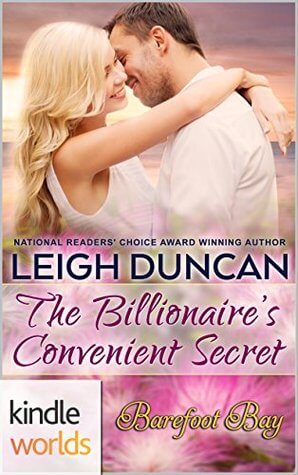 Duncan , when Charlie shows up at Charity's Super Min in Mimosa Key it is with one goal and one goal only. To finalize the sale of the Super Min for the company she works for. However, when she arrives, Charity is not only not there, she's not in Mimosa Key. Instead Charlie finds Josh behind the counter running the place. With no idea who Josh really is, Charity decides to stay in Mimosa Key for the weekend and pump him for information, convinced Charity is really around somewhere. Josh keeps quiet about who he really is, and decides to use the opportunity to get more information from Charlie…he just can't see his aunt deciding to sell the Super Min. Not to mention he is extremely attracted to Charlie…even if she is a bit of a snob. Charlie is just as attracted to Josh, but he is definitely not someone who will fit into her life plan…after all, he's happy working at the Super Min and she has much higher aspirations in life.
Her weekend in Mimosa Key soon takes on a whole new meaning for her though, and being with Josh opens her eyes to a lot of realities she's never really given much thought to. Together they start to work to save the Super Min. But when secrets are spilled will it still work? Or will it mean the end of the Super Min and the end of Josh and Charlie?
I enjoyed this trip back to Barefoot Bay! The thing I most enjoyed about The Billionaire's Convenient Secret was seeing an entirely different side to Charity than how she's presented in other Barefoot Bay books! I really liked seeing this part of who she is and getting some background on her. Even though she is a secondary character and not present much in The Billionaire's Convenient Secret, her presence is still felt. I liked this side of Charity!
The Billionaire's Convenient Secret was an entertaining romance that I enjoyed feeling a part of. I really liked Josh and his family and community loyalty. He has worked hard to get to the successful level he is at today, but he is still very down to earth. He definitely does not flaunt himself! He's never settled down because he's never found that one person who wants to be with him for him. Charlie is all about work. In her haste to distance herself from her roots she has become a little bit of a snob and presumptuous. She makes a lot of assumptions about Josh, and I was disappointed about this in her. I felt like she'd be better than that given her history. It was fun to watch the banter between Charlie and Josh, and get into his thoughts and hers! I saw a lot of growth in a short time in Charlie as she spent time with Josh in Mimosa Key. I liked that she wasn't so stuck in her ways that she lost all sense of people. Her character really grew on me as I came to see the integrity Charlie had. I couldn't wait to see what would happen when she found out about Josh, and honestly I didn't blame him for not being completely up front with her from the start. But when you start with a secret it's hard to let it go or know when to stop!
I loved the setting of Mimosa Key. It was fun to see characters from other Barefoot Bay books, although honestly this book can be read as a stand alone.
Well paced with good character development in a short time frame that didn't feel rushed, I'd recommend The Billionaire's Convenient Secret to any romance reader looking for an easy to read and fall into story.
Book Info:

April 12th 2016 by Kindle Worlds | Barefoot Bay
His secret might save the Super Min, but will the truth cost him his heart?
Tasked to bring a group of mom-and-pop convenience stores under one corporate umbrella, willowy blonde Charlotte Oak seizes the opportunity to secure her future…by any means necessary. But the hunky clerk who refuses to sell the Super Min to her not only blocks Charlie's path to success, he forces her to take a good, hard look at herself. And she doesn't like what she sees. Self-made billionaire Josh McLean does, though. When the golden-haired beauty struts into his Aunt Charity's Super Min, Josh wants nothing more than to wine and dine the newcomer like only the head of a Fortune 500 company can…until he discovers Charlie's real purpose in coming to Barefoot Bay will destroy the heart and soul of Mimosa Key.