The Billionaire's Deception (Amalfi Night Billionaires #2) by Mimi Wells was a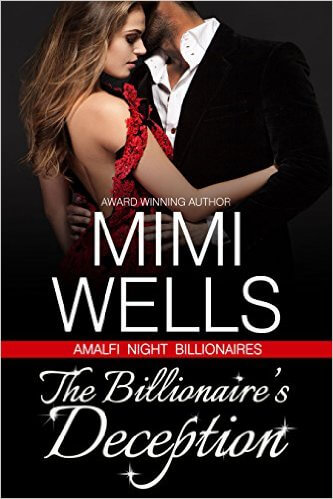 great trip to Isola del Sole. Janine is on a European adventure after quitting a job she hates. Not only does she hope to have fun and decide where to go in her life that will make her happy, she is there to meet her half sister that she never knew she had. Unexpected events leave Janine stranded, but sometimes things happen for a reason… Not only does Janine find her sister and a fulfillment she has never had before, she meets a man who will steal her heart…if he doesn't leave it broken first.
Shel is hiding out in Isola del Sole for his own reason. Famous but seeking sanctuary, he is pleasantly surprised that Janine has no idea who he is. This makes the pull they have towards each other much more real for Shel, and he finds himself thinking about her and wanting to be with her more and more. The feeling is mutual, but Shel keeps his secret and even goes as far as involving others. Secrets like his never stay hidden though, will the fall out mean the price of any future with Janine?
I enjoyed this quick escape to Isola del Sole in The Billionaire's Deception. I really liked Janine, and she grew so much in this story in a fast but believable pace. I liked that with all the things happening in her life with her family she didn't blame anyone, she just wanted to move forward to the next step. She has a strong, supportive family she loves but still wonders how things might have turned out differently. Janine's character is strong, motivated, and will not take advantage of others. Her relationship with Shel progresses quickly, and they both develop strong feelings for each other in a believable way. I understood why Shel started off not telling Janine who he was, but I felt like he kept his secret too long and I was really nervous what would happen when the truth finally came out!
The start of a sister relationship in a mature way was a great part of The Billionaire's Deception. It was nice to be back in the same setting and see characters from the first book in this series. However, if you haven't read the first book, The Billionaire's Deception can be read as a stand alone. I like the little bit of intrigue/mystery thrown subtly into the plot that I hope will carry through the rest of the books in this series.
A great escape in a gorgeous setting that is easy to picture, I'd recommend The Billionaire's Deception to any romance reader looking to get lost in a quick, enchanting read!
Book Info:

Published: August 23rd 2015 by Tule Publishing
After quitting her first "real" job, Janine Pike takes off for Europe, saving an excursion to the famed Isola del Sole for last. But when her travel-mates sail off with her backpack, phone, and passport after a night of partying, she's left only with the euros in her pocket and the faint hope that her estranged half-sister, who works at the renowned Hotel Dei Fiori Isola del Sole, might help her.
Shel Myerson, amateur racecar driver and wildly successful TV mogul, oozes wealth and prestige. What he doesn't have much of is privacy, thanks to a recent and ugly public breakup. What he doesn't expect is to be mistaken as an employee by a very pretty—and very broke—Janine, the one person in Europe who also doesn't have any idea who he is.
Shel and Janine discover their chemistry is combustible—but will their budding relationship survive the heat once the press catches on?