The Billionaire's Demands (Boardrooms & Billionaires #3) by Addison Fox is a nice addition to the Indulgence imprint. It is a story about two hardworking personable people that end up together because of lust, love, and objectionable corporate practices.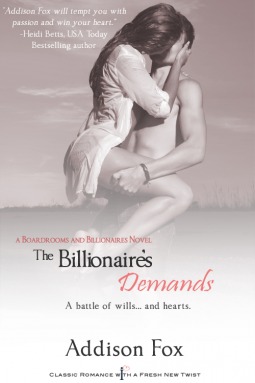 CFO Camryn McBride and her two sisters have worked very hard to make their father's floundering business a success. It took many years for him to accept their ideas and when finally gave them chance to rebuild his magazine corporation, it began to flourish. Camryn is a workaholic and basically does not take anytime for herself or to date. She has no desire to deal with the heartache of another failed relationship. However, there seems to be some kind of attraction with her new brother-in-law, but she is reluctant to pursue it.
Booth Harrison is a hot, sexy, corporate magnate. Most women find him irresistible and he has had his share of unfulfilled lust. Until recently, he thought he knew everything that was going on within his financial publishing company, so when Camryn innocently stumbles across a discrepancy or two, his mostly stable environment almost comes to a halt.
Booth and Camryn became in-laws a few months ago, but have known each other for a while. They have always found each other attractive and shared the occasional flirtation. A business trip to Hawaii together develops into much more. Luckily, they are able to mix business with pleasure and overcome some obstacles in the process.
I liked this story. The author does a good job of defining each and every character's role and personality. Camryn and Booth are both interesting and likeable, while Booth's father is clearly despicable. I especially liked Camryn because she has a lot of spunk and her flaws are tangible. Sinclair the stylist is another extremely likeable character, due to his ability to comically take over a harried situation and make it run smoothly. Overall, a fast-paced read with a meaningful plot and main characters that truly relate well to each other.
Book Info:

Publication: February 10th 2014 by Entangled: Indulgence
Booth Harrison has made a habit of getting what he wants, be it a new addition to the Harrison media empire, or a better relationship with his half-brother. But meeting his brother's new sister-in-law, Camryn McBride, poses a new challenge. The savvy CFO of McBride Media has a brain he wants to pick…and a body he needs to claim.
Camyrn has spent the past few years helping to rebuild her family's magazine company, focusing on that rather than her disastrous personal life. But when Booth Harrison invites her to be the keynote speaker at a sales conference in Hawaii, she's tempted to combine business with pleasure.
But meeting the billionaire's demands won't be easy, because someone doesn't want a merger between them to happen.