The Bodyguard And The Heiress by Susan Meier is the second book in the Missing Manhattan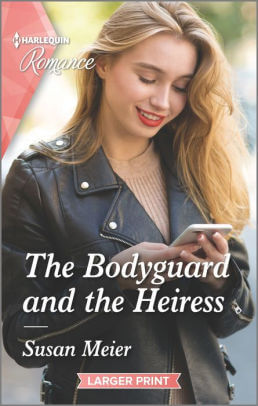 Heirs and even though it was part of a series, I felt like it was a great stand-alone also. It was a short book, but it was well written, the characters were nicely developed, and they were so easy to love.
Charlotte Fillion had become the vice president and director of operations for a development company by determination and working hard. She was witty, intelligent, and fiercely independent. Charlotte didn't want a thing to do with an inheritance from Mark Hinton, her father. When her father and mother separated, her mother moved them to a small town and kept her parentage quiet, hoping to stay away from the press and danger of being a Hinton heir. His will specified that all his heirs had to be identified and prove their legitimacy with DNA samples before the estate could proceed. She thought she could simply deny any inheritance and continue with her life, but that wasn't going to work. Once Charlotte learned she had a half-sister was excited to go to New York to meet her.
Jace MacDonald, security expert, only had one task and that was to take Charlotte to New York and keep her identity secret until her DNA results came back proving she was Mark's daughter. He wasn't expecting Charlotte to refuse her inheritance or to be attracted to her. He had been burnt in the past when he mixed his personal life and his professional, so he tried to ignore the feelings and do his job. Neither of them wanted a long-term relationship, but eventually they gave in to their feelings and decided to enjoy the time they had together and not make any commitments. Could they overcome their fears and have a happy ending?
This was a charming book and I enjoyed reading it and discovering a new author. I certainly recommend it and I can't wait to read the next book which is Danny's story.

Book Info:

Publication: April 1, 2020 | Harlequin Romance | The Missing Manhattan Heirs #2
He's hired to keep her safe…
But he's tempting her to risk her heart!
Billionaire security expert Jace MacDonald has his work cut out keeping tabs on his latest client, newly discovered Hinton heir Charlotte Fillion. The last thing Charlotte needs is a bodyguard—especially one with ties to her late father! But there's no denying their connection goes way beyond professional. Dare they push the boundaries between them?