Bears Behaving Badly by MaryJanice Davidson is the opening salvo in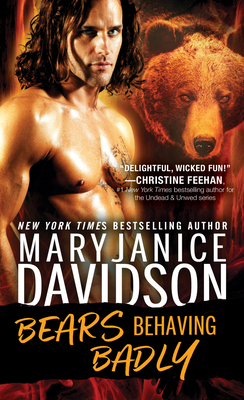 Ms. Davidson's new series, BeWere My Heart. This book is a can't-put-down, funny, serious, sexy story. The characters are fun and likeable.
If laugh-out-loud funny dialogue, hot sexy times with humorous moments and werebears willing to fight to the finish to protect innocent cubs is your thing, this is the book for you.
You know a story is going to be a fun read when it starts out that she likes him and he likes her but she thinks he doesn't like her and he thinks she doesn't like him. Meet Annette Garsea, werebear shifter and caseworker for the Interspecies Placement Agency(IPA). Everyone in the office keeps asking Annette if she has gone on a date with David yet. Like she doesn't wish it was so but "Nope." No dates with David.
Meet David Auberon who is a werebear shifter and special investigator who sometimes does work for IPA. He has been attracted to Annette for a while but hasn't acted on that attraction. Now they are working together on a case. Annette has taken temporary custody of Dev Devoss, juvenile delinquent werefox who is always getting into trouble. He was taken into IPA along with Caro Daniels, silent lone werewolf who almost killed an exotic animal import-export merchant named Lund. She gives no answers to Annette when she questions her about why she attacked Lund. Caro is voluntarily mute. When Caro disappears from IPA custody Annette and David team up to find her and discover why she is so attached to Dev and what has been happening to her in addition to why she attacked Lund. Little did David, Annette and friends realize that their answers to those questions would be found along a very dangerous, deadly path.
The author did a great job keeping me guessing who the bad guys were. The plot is quite interesting and runs smoothly. Annette and David are a fun couple who manage to discover their attraction to each other could lead to great things as long as they manage to stay alive long enough. I just loved this book!
Book Info:

Publication: March 31st 2020 | Sourcebooks Casablanca | BeWere My Heart #1
These social worker bear shifters give the term "mama bear" a whole new meaning! Bestselling author MaryJanice Davidson is back with this brand-new paranormal romance series featuring a foster care system for at-risk shifter babies and teens.
Werebear shifter Annette Garsea is a caseworker for the Interspecies Placement Agency. When a selectively mute and freakishly strong teen werewolf is put in her custody, Annette has to uncover the young girl's secrets if she's to have any hopes of helping her. And not even the growling of a scruffy private investigator can distract her from her mission…
Bear shifter David Auberon appreciates Annette's work with at-risk teen shifters, but he's not sure if her latest charge is so much a vulnerable teen as a predator who should be locked up. All that changes when he, Annette, and her motley band of juveniles find themselves dodging multiple murder attempts and uncovering a trafficking cartel that doesn't just threaten the kids, but risks discovery of the shifters by the wider world of homo sapiens.
BeWere My Heart series:
Bears Behaving Badly (Book 1)