The Boss's Fake Fiancee by Susan Meier: Take a rich Spanish vintner, his mousy secretary, a wedding and throw in a meddling over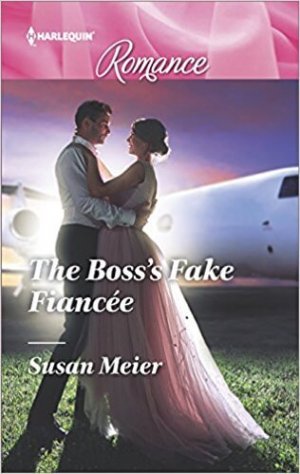 protective grandmother not to mention more secrets than you can throw a stick at… what could possibly happen?
Lila Ross had a crush on her boss. She knew it, but she also knew he didn't see her, not really. So it was okay, she would get over it. She was used to being in the background, not having people notice her. She was good being the puppeteer of sorts.
Mitcham, Mitch, Ochoa was very proud of all he had accomplished. He was making good money for his family. Not only had he saved them from bankruptcy he had made them millions. The problem was his love life, or so his family thought. He hadn't been serious with anyone since his last real ex, and she just happened to be marrying his brother.
What a tangled web we weave when first we practice to deceive. When Mitch draws Lila into this silly ruse it's hard t figure out what is real and what is fake.
Ms. Meier has managed to give her readers a very sweet romance with more values than most, in that she has created a heroine who stays true to herself no matter what she is facing. Lila isn't prideful or one to be walked all over. Somehow Ms. Meier has given her both realism and dreams. Lila is the embodiment of a strong woman and by staying true to herself she is able to have the world. Ms. Meier has given us someone to root for, to be friends with and to dream with. This is a strong novel with the ability to make the reader root for staying true to yourself.

Book Info:

Publication:  August 8th 2017 | Harlequin Romance |
The perfect fake fiancehis assistant! Billionaire Mitcham Ochoa never expected to be the best man for his brother and his own ex! But what better way to prove he's over her than to have his very own "fiance" at his side? PA Lila Ross has had a crush on her boss since day one, but surely pretending to be his fiance is a step too far? She knows she'll be heartbroken when she has to walk away Only Mitch is beginning to find Lila as indispensable in life as she is in the office!