In Accidental Sire (Half-Moon Hollow #6) by Molly Harper, Who knew that a great night spent with a cute guy on campus just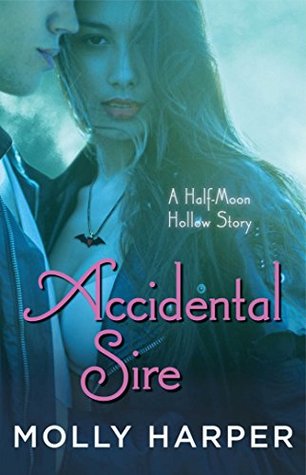 talking and getting to know each other would end in tragedy? One minute Meagan was chatting up Ben, a sweet and kind of nerdy local, and then–bam!–she was crushed to death in an Ultimate Frisbee mishap. Not exactly the way she saw her college career or her life going. But thanks to her decision to be turned into a vampire should the worst ever happen, Meagan is given a new lease on life. Such as it is. Because a glitch in her "change" into a vampire has her sequestered with Jane Jameson-Nightengale in Half-Moon Hollow, Kentucky. And she's not really sure if it's for her own protection or that of other vamps and humans she'd come into contact with.
"I want to find a way for us to get back to the people we were sitting out in front of the dorm…before you were crushed by a flying free weight. Because I liked those people. They were good together."
"Our meet-cute is not like other people's meet-cute." I sighed. "I like you, too."
Meagan is a bit overwhelmed by all of Jane's friends and family who are always hanging around. She thought with Ben there, who knows the whole diverse bunch well, that it would make things easier. But the quick connection Meagan felt initially with Ben gets tested as she learns how to be a vampire and figures out how to finish school and be out in the world again. It also doesn't help that her and Ben's lives are suddenly in danger which sends Jane into overprotective mode. With the help of Gabriel, Dick, Georgie, Ophelia, Gigi, Libby and the rest of the gang, they are determined to keep Meagan and Ben safe and avoid any more unpleasant situations. But it is Half-Moon Hollow, after all, a town which is certainly not known for being drama-free.
"…Maybe my special talent is bad timing and inappropriate thoughts?"
Ben snickered. I gave him the finger, which made him laugh harder.
Molly Harper delivers a cute and funny yet heartfelt paranormal romance once again with Accidental Sire. Cue the snark, the zingy one-liners, and the threat of someone in Half-Moon Hollow getting murdered as always–no, not Jane this time–and I had myself one entertaining good time.
'Like any other children, new vampires need boundaries. Just think of your newly turned vampire as a murderous toddler.'
—The Accidental Sire: How to Raise an Unplanned Vampire
I really do love coming back to my favorite quirky vampires, shapeshifters and humans in Half-Moon Hollow, Kentucky, with all the wacky situations they get into. And this was quite the ensemble cast, bringing in every character I could think of from the series all while Meagan and Ben found themselves dealing with some major life changes. I don't want to give away too much of what happened as the twists and surprises were what made this a really fun read. Well, it's *always* a fun time when reading a Molly Harper book. But the issues our characters faced were plentiful and affected more than just poor Meagan–who will likely never ever play Frisbee of any kind after her untimely death as a result of a freak Ultimate Frisbee accident.
Fans of this series will likely be familiar with our hero Ben, who turned out to be as lovable, nerdy and goofy as I expected. I loved his relationship with Jane and the rest of her crew, although I wasn't impressed with how he treated Meagan at times after her change. There are factors I can't go into that explains why Ben acted as he did, but I was happier once he faced his altered future and admitted his feelings for Meagan. She was actually a really cool heroine who had a sad past that still affected her as a young adult, especially in personal relationships. She grew a lot as Jane, Gabriel, Dick, Libby and the rest attempted to pull her into their circle. I always enjoy how Jane seems to gather people into her family of choice. And there was a real sense of togetherness and community in this particular story which was nice.
Meagan and Ben gave Jane and crew a run for their money in this latest installment. And although Jane will likely always be my favorite character, Meagan is definitely one of my new faves. I hated to see Accidental Sire end but I'm sure whatever Molly Harper cooks up for us next will be well worth the wait.

Book Info:

Publication: July 24th 2017 | Pocket Books | Half-Moon Hollow #6
In Molly Harper's newest paranormal romantic comedy, Ben, Gigi's old boyfriend, must find a way to save his new love after a freak Ultimate Frisbee accident. But will she want to live after she finds out how Ben had to save her?
In this exciting addition to Molly Harper's beloved Half-Moon Hollow series, the focus is on Gigi's ex-boyfriend Ben. When his new girlfriend is killed in a freak Ultimate Frisbee accident, he's determined to save her, no matter the cost, even if it means bringing her into the darkness of vampire life!