In The Brawl (Calamity Montana #5) by Willa Nash, Small town living might be a new concept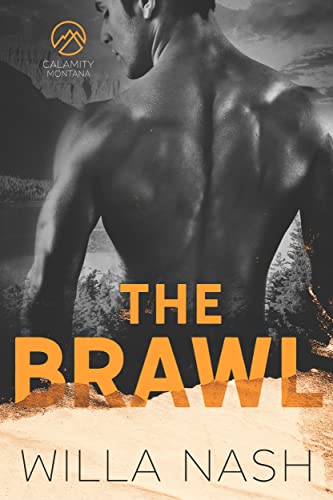 for lawyer Ronan Thatcher but he's hoping Calamity is just the change he needs. With his office set up and his first week of business now underway, the last thing he foresaw was falling under the spell of an attractive local woman, Larke Hale. Not that she'll give Ronan the time of day. Nope. He finds himself amused by her outright refusal to date–and very much intrigued. But when his new client, a local eighteen-year-old high school student, Ember Scott, intends to sue Larke, her English teacher, he's put in the middle of a situation that screams trouble. Good thing Ronan's an expert at solving problems.
'So much for that simple life I'd hoped to find in Calamity. Things were about to get complicated.'
As a busy single mom, Larke isn't in the market for dating, let alone with someone as self-assured and arrogant as Ronan. She can't help but wonder, though, where their chemistry could possibly lead them. If she hadn't given up on men, that is. Then Larke finds out Ember is suing her for a better grade on an English assignment–and that Ronan is her lawyer. Angry with both of them and unimpressed with the town's newest hot, single guy is an accurate description of Larke at that moment. But as she explores the reasons why Ember so desperately needs the grade changed and she sees how insightful and caring Ronan is, she might be in danger of losing her heart to him after swearing it would never happen.
'If Ronan Thatcher wanted to battle this out, fine.
If Ember Scott wanted to brawl for a better grade, great.
It would be my utmost pleasure to beat them both.'
A story with such fun, sexy banter that I alternated between laughing out loud and swooning the entire time, The Brawl was a small town enemies-to-lovers romance done superbly.
"I want to kiss you again."
"Probably shouldn't say that to the woman you're about to sue."
I grinned. "Probably not."
Willa Nash (aka Devney Perry) somehow manages to outdo herself with each new installment she gives us in the Calamity Montana series. This time it was Larke Hale's turn to find romance. Even if she was dead set against it and had sworn off men a couple of years ago. I can't blame the single mom–she was busy enough with her adorable sixteen-month-old daughter Wren and her new job as a high school English teacher. Larke was solid and steady, warm and giving, but she was also stubborn and sassy when warranted. And Ronan warranted those traits at first, for sure. (lol)
From their initial comical meeting where Larke flat out turned down a date with Ronan, you could tell they were destined to be together. Of course several things got in their way–one of which being the lawsuit Larke's student, Ember, made that Ronan had no choice but to take. It caused some serious fireworks between them. And it made Larke and Ronan's attraction quite inconvenient. But it was interesting to not only watch them dance around each other in the most entertaining of ways, it was also very heartening to see them both worry about Ember, searching for the reasons *why* she needed the grade changed.
There was a lot going on in The Brawl. From the truth about who Wren's father was to some things that happened in Ronan's recent past, as well as what was truly going on with Ember, Willa Nash perfectly straightened out all the plot threads. The conclusion also cemented how lovely both Ronan and Larke were while giving us a bit of insight into our next hero, broody Wilder Abbott. Sign me up!
QOTD: Have you read any of the Calamity Montana books yet? Have a favorite couple or character so far?
Book Info:

Publication: October 6, 2022 | Devney Perry LLC | Calamity Montana #5
On Ronan Thatcher's first week in Montana, he spots the most beautiful woman in the world. Love at first sight? Nah. He doesn't believe in love. But he wouldn't mind a date or two with the local beauty. Ronan is the type of man who gets what he wants, and he wants Larke Hale.
Except Calamity's sweetheart has sworn off men. The last time Ronan was rejected was, well . . . never. Yet Larke dismisses him without even batting those pretty brown eyes.
Bruised ego in check, he's about to walk away when a teenager marches into his office and asks to hire Ronan as her lawyer. Something about a bad grade and a ruined grade point average that will inevitably destroy her future. He's about to lecture the kid for being melodramatic until he learns that the teacher she wants to sue is Larke.
Suddenly this frivolous lawsuit seems like a bright idea. Ronan wants Larke's attention and this is guaranteed to snag it. So let the brawl begin.