Vacation Crush by Yahrah St. John: After her feelings for Jonathan Lattimore became public at the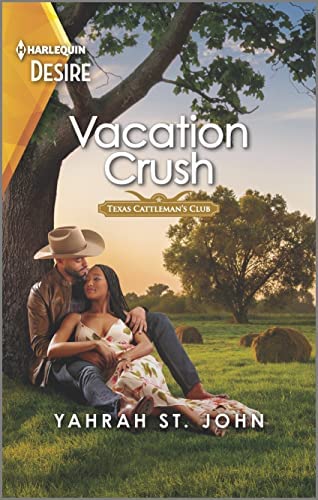 TCC's pool party we read in book 4 of the series, Natalie Hastings needs to leave Royal, Texas for a while to stay away from gossip…and Jonathan himself, who's avoiding her since that embarrassing moment. What Natalie didn't knew was that she will be in a hotel in Galveston for a week and Jonathan will be there too!
Natalie, besides her long-time crush with Jonathan, she's a very solitary woman. Abandoned by her parents, always been bullied at school for her weight. That, and the fact that she thinks Jonathan would never see her as a woman, affected her self esteem as a teen. At the same time, her strength and her determination to have what she wants—love, family and forever—is admirable. Jonathan has worn off love after his first marriage ended badly. His ex had burned him and Jonathan wasn't altogether sure he'd ever recover from her betrayal. Yet he finds Natalie irresistible and couldn't stay away from her anymore.
But things had changed and now Jonathan wants a hot, passionate fling with her…for as long as their vacations last. What will happen when they return to Royal?
This is where things become interesting. This book in particular, contrary to other books in which the story would focus on the vacation days, brings us what happens AFTER the vacation, while we can get all the details we need to know about those days Jonathan and Natalie spend together. Especially the ones that makes the reader feel all the sizzling hot chemistry hero and heroine have. That said, my only complaint is that the first six chapters were too centered in their sexual attraction more than their emotions. Also, we can truly understand how deep their past struggles define their personalities so maybe it was the reason their romance was TOO sexy at the beginning?
Book 4 of this series brought a singular dynamic between the Lattimore siblings that I missed in this book. However, interactions between Jonathan and his brother Jayden are really good; the brothers are very close. Following that line, we met Natalie as Chelsea Grandin's best friend in book 3 of the series (Chelsea's story) and it's pretty nice to see in this book how strong and organic their friendship is. And, something we won't forget, is the hints we get from next book of the series.
Ms. St. John brings a very solid story with great scenes, a well developed setting and fantastic characters. I really enjoyed this book and loved how Jonathan finally lets love—Natalie's love—heal his broken heart.
Book Info:

Publication: August 23, 2022 | Harlequin Desire | Texas Cattleman's Club: Ranchers and Rivals #5
Will a vacation fling with her longtime crush lead to more? Find out in this next installment of the Texas Cattleman's Club: Ranchers and Rivals series by Yahrah St. John.
She's been crushing on him forever.
Now she has her chance.
After confessing her unrequited feelings for rancher Jonathan Lattimore in an accidental livestream, Natalie Hastings makes a hasty retreat from the gossips of Royal, Texas. But when the object of her affection checks in to her resort, there's nowhere to hide. Turns out, Jonathan is ready to reciprocate her feelings…at least for the week. With the fire still burning even after they return home, can Natalie make Jonathan see her as more than a vacation fling?
From Harlequin Desire: A luxurious world of bold encounters and sizzling chemistry.
You'll be swept away by this bold, sizzling romance, part of the Texas Cattleman's Club: Ranchers and Rivals series:
Book 1: Staking a Claim by Janice Maynard
Book 2: Boyfriend Lessons by Sophia Singh Sasson
Book 3: On Opposite Sides by Cat Schield
Book 4: Rivalry at Play by Nadine Gonzalez
Book 5: Vacation Crush by Yahrah St. John
Book 6: An Ex to Remember by Jessica Lemmon
Book 7: Cinderella Masquerade by LaQuette
Book 8: One Christmas Night by Jules Bennett
Book 9: Rancher After Midnight by Karen Booth