In The Bride Who Wouldn't by Carol Marinelli, Kate is doing all she can to keep the family antique business from going under after the death of her father and subsequent poor management by her mother and brothers. Kate loves antiques, history and her family. She is a historian teaching genealogy when she meets Ivor who is researching his family's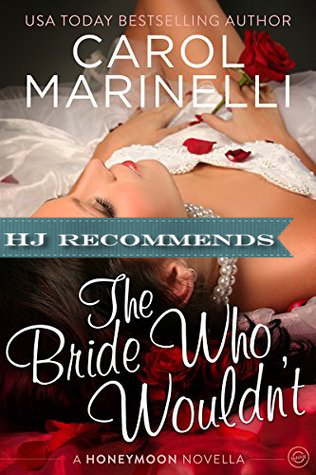 Russian roots. She becomes good friends with Ivor, even traveling to Russia with him.
They both have secrets and they both need help, so a contract between them is drawn up for a marriage of convenience. In return for marrying Ivor for a year, Kate will receive much needed money for her family business. But Ivor dies suddenly before they can be wed. Suddenly the deal is over, and Kate is faced with some unexpected decisions. Ivor's nephew Issak gives Kate the choice to pay back the money…or marry him. Feeling stuck, Kate decides the wedding will go on. Despite her attraction to Ivor though, she will not give him everything. It will remain a marriage of convenience. There are things Isaak doesn't know, and by the time he realizes the extent of it, they are on their honeymoon in Paris. Surprised by his reaction and attraction to Kate, Isaak sets about to woo her and to really make her his.
As Paris and Isaak work their magic, Ivor's secrets slowly come to light. Isaak will discover there is more to both Kate, Ivor, and even himself than he imagined there could be!
The Bride Who Wouldn't is a fun, fast paced steamy hot novella! Kate manages to draw you in quickly and keep you there, adding a little bit of mystery with the romance that makes the story line unique and intriguing. Kate and Isaak are both very likeable characters and very similar in a lot of ways. They are both strong and very loyal to their family's…even when you might question why. Their romance was unexpected and fast, but Carol really made it believable. More importantly she made Kate and Isaak people we'd love to be with.
The pace of The Bride Who Wouldn't was appropriate, and this novella is the perfect length for Kate and Isaak's story. Carol throws in a few surprises along the way, and I felt the way she gives us some of the answers to some of the secrets fit really well with the story line.
I'd recommend The Bride Who Wouldn't to any romance reader who likes it hot, fast, and a bit mysterious!!
Book Info:

Published June 16th 2014 by Tule Publishing Group
A romantic honeymoon in Paris, with a sexy billionaire Russian groom….
There are only two problems. It's a marriage of convenience. And, the virgin bride is frigid.
Kate Edwards has never embraced her sensuality, is terrified of intimacy, and the wedding night is a disaster. Instead of calling the whole thing off, Isaak Zaretsky listens to her and challenges her using his unashamedly sensual nature and superb bedroom skills. But can Kate really give herself without love?