The Bride Wore Red Boots (Seven Brides for Seven Cowboys #2) by Lizbeth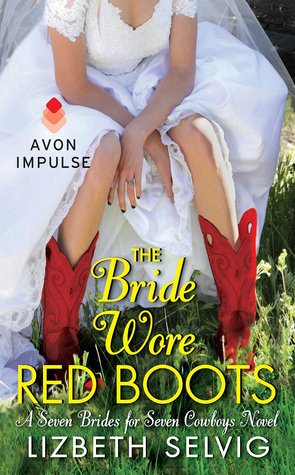 Selvig is just as wonderful as the first book in the series was. There are feisty girls, sassy women, hot cowboys, a merry band of military misfits and of course a WONDERFUL HEA that will make you cry, make you cheer and make you count down the days until book 3. This is Mia and Gabe's story.
Mia is a top notch surgeon, top of her field, published, accomplished, practically perfect. Every goal she sets she gets, nothing stands in the way of Mia. When a little boy, Rory, is in the hospital and begs her to find his beloved cat, the cat that he cannot have because he is in foster care, she will move heaven and earth to help the boy. When the dream job that Mia has been practically guaranteed is given to someone else, and she is asked to take time off to regroup, she figures that now is the prefect time to head home, what she does not count on is the feeling and banter that she finds with Lt. Gabriel Harrison.
Gabe knew that Mia was more than what she seemed all those months ago when she went over is head, spared with him and fought so hard for her sisters care. He knew that under all of that stiff and strong exterior was a soft, scared, and sexy woman. When Gabe asks Mia for help finding the vets in his experimental group a project before they close the program, Mia is the first one there to lend a hand, and when Rory's mom dies, leaving Mia as his guardian, Gabe stands by Mia and has her back, helping her care for the scared little boy.
When the dream job might just be coming back around, and Mia's time in Wyoming coming to an end, Gabe will need to pull out all the stops to convince Mia that they were meant to be together, meant to raise Rory together, meant to be a family, before it is too late.
I loved this story. The Vets and their pranks has me laughing out loud, Rory and his little cat Jake were so sweet, and I found myself crying for the little boy. Mia and Gabe has chemistry to spare and sparks flew when they were in the room. I loved their banter, and they joking and then poking at each other. I loved the connection that they forged and the love and friendship that would carry them through this story and beyond. I really look forward to the next book in this series and recommend this a sweet end of summer read.
Book Info:

Publication: Published September 1st 2015 | Avon Impulse | Seven Brides for Seven Cowboys #2
Dr. Amelia Crockett's life was going exactly the way she had always planned—until one day it wasn't.
When Mia's career plans are shattered, the always-in-control surgeon has no choice but to head home to Paradise Ranch and her five younger sisters, cowboy boots in tow, to figure out how to get her life back on track. The appearance of a frustrating, but oh-so-sexy, former soldier, however, turns into exactly the kind of distraction she can't afford.
Even though Mia can't stand the sight of him, Gabriel Harrison has never returned the sentiment. He can't seem to resist teasing the gorgeous doctor who pushes all of his buttons. And the searing hot kisses they share are turning him inside out.
As she begins to work with Gabe, helping former vets recover from severe PTSD with the aid of some wild Mustangs, Mia finds herself becoming more like the person she used to be. She never expected to alter her life plans, and definitely never expected to fall for anyone, least of all the handsome Gabe. But fate and some lucky red boots have a way of changing things. As their lives become more complicated, will Mia and Gabe's love be enough to smooth the way to a happily ever after?