In The Burlington Manor Affair by Saskia Walker, The time Carmen Shelby spent in Burlington Manor was some of the happiest times of her teenage life. Not only did she have a beautiful home and grounds to wander, but she also gained a stepfather and stepbrother. However, Rex Carruthers turned out to be so much more than a typical broody older stepbrother. He was the source of her playful bantering and the source of her young lust. Now grown, Carmen must face him after years of silence between them to go over her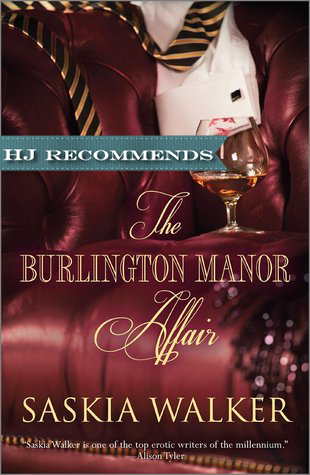 stepfather's will. Carmen is shocked when Rex issues her a proposition: she wants the manor which he also partially owns. And he wants her in his bed, to do with as he pleases. They both would get something they long for. But are the stakes too high for them to come out unscathed?
"So, you think that you can have any woman you want, is that it?"
"Not necessarily. But I want you, and you want the house. I see this as the perfect opportunity for us both to get what we want." His voice was husky, his message insistent.
Carmen will always be the girl who got away for Rex. He's spent years in the company of beautiful women trying to get her out of his mind, to no avail. When the opportunity presents itself for them to finally spend some quality time together and see where their mutual attraction gets them, Rex jumps at the chance. He offers Carmen an option that he hopes will entice her to give herself to him as he's dreamed of for so long. And she'll walk away with Burlington Manor. Will she also walk away with his heart in the process?
"It's only a matter of time," he continued. "We both know that. It's always been a matter of time before you and I ended up in bed together."
The Burlington Manor Affair is a complex, erotic novel packed with family secrets, betrayal, and unrequited love. It seems only right that it was set in the beautiful English countryside on an estate where the family manor has seen it's fair share of love and pain.
This was a very interesting piece of women's fiction to read. The protagonists, Carmen and Rex, were both strong, independent characters who liked control. So to see them finally get a chance to explore their relationship as adults was intriguing and undoubtedly hot. Saying that their relationship growing up and into adulthood was complicated is certainly an understatement. They fought themselves and each other for emotional control which led to impassioned dialogue and power plays with the potential the devastate them. I wasn't expecting the love scenes to be quite so erotic, so that was a nice surprise. And even though the scenes were very explicit with some light bdsm, it wasn't done in a crude manner, but instead very passionate and wild.
There were also a lot of dark secrets uncovered as Carmen and Rex dig into their family's past. That edge of mystery and suspense really made this a page-turner for me. I couldn't help but want to see how everything would get pieced together, much like a puzzle, and find out how everything ends up. I thought the ending was solid and in character for Rex and Carmen. It definitely finalized the story in a pleasing way but yet left it open so there was the possibility of a continuation in the future.
This elegantly written novel is sure to please fans of erotic romance who love a story with a solid plot and completely engaging characters.
Book Info:

Published May 1st 2014 by Harlequin HQN
A legendary family estate.
A mutual longing.
A bargain struck.
Carmen Shelby wants what's been left to her—the valuable estate that she once called home. Rex Carruthers is the heir to Burlington Manor, a ruthless playboy who enjoys playing games, and all he wants is for Carmen to surrender.
There can be only one winner….
"Walker deftly spins a captivating tale that will have readers holding their collective breath until the last page is turned." —Publishers Weekly on The Libertine