The Christmas Cookie Collection by Lori Wilde is all four Christmas novellas based on her highly popular Twilight, Texas series. Each is filled with tales of love and center around the town's claim to fame: the Sweetheart Legend.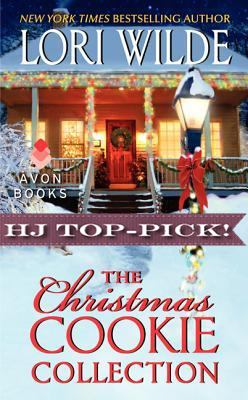 Novella #1 Carrie:
Carrie MacGregor has never gotten over her first love Mark Leland. He left their hometown of Twilight and never looked back, becoming a hotshot television personality in L.A. When his job brings him back to town, the attraction between Mark and Carrie burns just as hot as it did in high school. They struggle to rein in their emotions knowing that a reconciliation wouldn't work, given that their lives are so different now. But are they really looking for different things after all?
'In Twilight, Texas, true love really does conquer all.'
Novella #2 Raylene:
Raylene's husband, Earl, walked out on her last Christmas after learning a secret Raylene kept from him for over three decades: she had a daughter that she gave up and has never seen. Devastated by her husband's disappearance, Raylene prays he will return so they can work things out. When a mysterious woman applies for a job at the Horny Toad bar, owner Raylene wonders just what Shannon is hiding. Things aren't adding up and even handsome Nate Deavers takes notice of Shannon and her secrets. Just when Raylene thinks she has solved the puzzle, more surprises come her way that may change her life forever.
'Raylene was in limbo, waiting for the love of her life to return. How long could she live like this?'
Novella #3 Christine:
Christmas this year is going to be difficult for Christine. Her parents are overseas, she just lost her beloved cat Cocoa, and she received some disappointing health news. Things finally begin to look up when her high school crush Eli walks into her bakery. Fate has given them the opportunity to be together so Eli jumps at the chance to take Christine out on a date. With their one and only previous kiss indelibly branded in their minds, they realize they have even more chemistry now than when they were teenagers. They both want to explore a relationship but have been hurt before, so Christine and Eli have to reconcile past issues and find the courage to move forward.
'One thing was clear. Either they were going to have the love of a lifetime, or they were going to crash and burn as a couple and break each other's heart.'
Novella #4 Grace:
Flynn and Jesse have had a long road to finding happiness, but with Flynn nine months pregnant and both of them doing well in their careers, they finally feel peace in their lives. But soon everything gets turned upside down as an afternoon helping a local family puts Flynn in a dangerous situation on slick roads. Jesse's search for Flynn begins with an unlikely companion and it's up to the two of them to find and save the mother and her unborn baby.
"Because of your love, Flynn, I feel like grace has pardoned me from an empty life."
All four stories were truly wonderful. Lori Wilde's writing is a joy to read and I loved her descriptive prose. The emotionally charged scenes just sucked me in, drawing me into the storyline even further, some leaving me breathless. It was easy to connect with the many characters we meet in this collection, but I find myself really attached to Raylene's story. I think her longing for her husband's return and to finally meet her daughter comes across so clearly in the story that it's hard not to feel those emotions right along with her. (Although I really loved all of the stories just as much!)
The Christmas Cookie Collection would be a great way to brighten your holiday with some lovely HEA's and some good old small-town charm. Very highly recommended!
'You had to take the special moments when they appeared, wrap them in the tissue paper of memories, and tuck them close to your heart, because these special moments were what made life worth living.'
Book Info:

HJ Top Pick
Published October 29th 2013 by Avon
Four delightful novellas featuring characters from Lori Wilde's New York Times bestselling book The First Love Cookie Club. First published as e-originals, they are now available in one volume and in print for the first time