In The Christmas Light by Donna VanLiere, the Christmas Eve Nativity in small town Grandon will pull people together in unexpected ways. Donna gives us a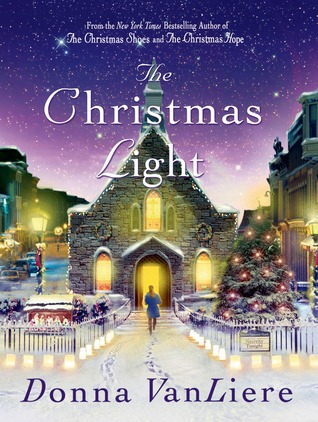 story that revolves around a group of people who are struggling this Christmas, a group that needs hope and love.
Jennifer and her young daughter are still struggling a few years after the loss of Jennifer's husband and her daughter's father. Some days Jennifer struggles just to see the light at the end of the tunnel, but is always a pillar of strength for her daughter. Ryan and his daughter are temporarily staying at his aunt's home while he decides on a job and a place to live. Kaylee is a pregnant 16 year old who will really grip your heart with her struggles. Stephan and Lily are involved in the church and face their own struggles. The force of gravity in The Christmas light are Ryan's aunt and her friend (Gloria and Miriam), who are in charge of the Nativity this Christmas.
I really like how Donna manages to tell each story separately, but expertly weaves them together and surprises us with the connections these people all have. The pieces of each of these people's lives that we see keep the story flowing smoothly, and it is easy to escape into The Christmas Light. All of the characters bring an important piece to the plot and life lessons. While serious and at times heart wrenching, Donna gives us humor breaks and entertainment with Gloria and Miriam.
Donna brings these people and their stories together smoothly, drawing their stories out enough to keep the reader involved, but not too long. Because The Christmas Light revolves around Christmas and the Nativity, it does have a very Christian aspect, but not in an overwhelming way. I felt that Donna did this very well.
I really enjoyed the small town aspect of The Christmas light and would recommend The Christmas light to readers looking for a heart warming Christmas read that will lift your heart.
Book Info:

Published October 14th 2014 by St. Martin's Press
n the small town of Grandon, five very different people discover the true meaning of Christmas. Jennifer and Ryan are both single parents, struggling with their own losses and heartache as they attempt to move forward in the present while still holding onto the memories, joy, and heartache of the past. Sixteen-year-old Kaylee is faced with a life-changing situation that has affected her whole family. Stephen and Lily are happily married and ready to start a family. All of them are facing their own struggles, and all are finding their way through the dark. When they are brought together for a rather unconventional church Nativity, they will learn that with strength, courage, and love, there is always hope. The New York Times bestselling author of the beloved The Christmas Hope series returns with this new heartwarming, inspirational story about the power of love and faith to reveal the possibilities that lay right in front of you.