The Christmas Secret by Jeannie Watt: My favorite thing about Christmas is all of the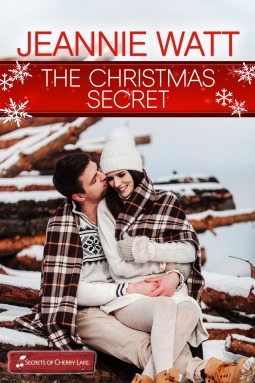 sweet HEA Christmas stories that make the season merry and bright. This sweet little Christmas Novella is a second chance love story. this is Casey and Lil's story.
Lil Reynolds just wants to escape Christmas this year. Her former fiance is getting married on Christmas eve (the same day that they were suppose to get married), she doesn't want to be around her family, she just wants to stay at the family cabin and ring in the holidays in peace and quiet. At least that is the way it started, until a blizzard has her stranded in the cabin with Casey Lanigan, her former fiances brother and the man that she had feeling for oh so long ago.
Casey Lanigan never got along with his dad, he has heard the quiet rumors surrounding him, but doesn't to want to believe them. Out growing his rough and rowdy teenage ways, Casey wants to prove to his dad that he is not a screw up. When things don't go his way, he figures his is going to high tail it out of town, until he is snowed in with Lil, the girl that he has crushed on for years and the woman that is oh so glad is never going to be his sister in law.
As the wind blows and the snow falls, the attraction between these two burns bright. Can they make peace with the past and find shelter, love and acceptance in each others arms?
I loved the connection that these two characters had. The story was a good one, the connection was strong. I enjoyed the flash backs to their childhood. The heart to heart talk that they had during the storm and after they were rescued was heart warming and made their HEA that much sweeter.
Book Info:

Publication: November 5th 2015 | Tule Publishing |
Trapped in a cabin in a raging blizzard with the one man on earth who could turn her world upside down…this Christmas holiday was not playing out at all the way Lil Reynolds had planned. Not even close.
When Lil's former fiancé chose to marry on Christmas Eve—the day he and Lil had planned to marry one year ago—she knew she had to get out of town for the holidays. Heading to the isolated family cabin seemed like the perfect solution, until the blizzard came…and a man showed up at her door in the heart of the storm. Casey Lanigan. Her ex-fiancé's brother. A man with whom she shared a secret summer romance many years ago. A man who'd betrayed her trust. A man who, despite everything, still made her heart beat a little harder…
So much for a Lanigan-free holiday.