The Consequences of That Night by Jennie Lucas
"He couldn't even stick around for breakfast, much less commit to raising a family!"
Emma Hayes has been in love with Cesare Falconeri since she began working for him seven years ago. In that time, she has graduated from a maid at his hotel to the head housekeeper of the billionaire hotelier's mansion. She has lived in his home, making his bed, seeing his one night stands off with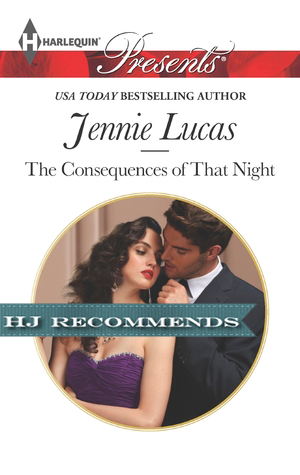 breakfast and a Cartier watch and a shoulder to cry on, and making his life run on well oiled wheels for years without asking for any days off. When she finally takes some time off and returns, passion is ignited and they share one night together that has far reaching consequences.
Cesare is determined to forget that night ever happened. He depends on Emma to run his home and be his friend. After the tragic death of his wife, he has made it clear that he doesn't believe in love and commitment. Emma of all people should know this, having worked so closely with him and dispatching his conquests for him. Even if he doesn't love her, he likes and trusts her, and he doesn't want to lose her. But he isn't willing to offer her what she truly desires but never thought possible: a home, husband and father for her child. So Emma does the only thing she can do.
'I tried to talk to you. You wouldn't let me. You were too terrified I'd say those three fatal words.' She gave a bitter laugh. 'So here are two words for you instead." Emma lifted glittering eyes to his. 'I quit.'
Once Cesare learns of the consequences of their night together, he tries to do the honorable thing. But Emma knows Cesare is not able to give her or her child the life and love that they deserve. He has never gotten over the death of his first wife. But Cesare says he's committed to providing her with her dreams of a family–without the complication of love. To give her baby a loving father like she had, will she put aside her dreams of finding love for herself?
I read Jennie Lucas' A Night of Living Dangerously and loved it, so I had high expectations of The Consequences of That Night, and Ms. Lucas didn't disappoint. I enjoyed The Consequences of That Night. Emma and Cesare were both well written characters, and the supporting characters were a great addition to the story. The backstory for both of these characters explains their motivations without being too melodramatic, and the past plays into the story just the right amount. The interpretations they put on each other's actions fits what we know about them and what is revealed as the story unfolds While the reveal of their feelings for one another had some melodrama, Ms. Lucas wrote their conflict so well that nothing but a little melodrama was going to drag a profession of love out into the open.
With that being said, the one thing I didn't like was that the ending felt a little rushed. I wish there had been a little more time for Cesare to "feel the feelings," so to speak, but a bolt from the blue worked with his character. I just like a man to get in there and do the emotional work, not get hit in the head with it, but art must imitate life, or the other way around.
The Consequences of That Night by Jennie Lucas is a great read. The writing was engaging, the characters were well worth rooting for, and Ms. Lucas delivers a believable plot that wraps the happily ever after together in a pretty little bow. I would recommend this book to anyone who loves a falling for the boss story with a sexy Italian hero and a heroine who can put a ruthless magnate in his place as well as in her bed.
Book Info:

 HJ Recommends
Expected publication: October 22nd 2013 by Harlequin Presents (Book 3187)
Emma Hayes has gone from making hotel magnate Cesare Falconeri's bed to running his household, including handing out expensive parting gifts to his numerous conquests! But each time, it's chipped away at her heart. Until one night, inhibitions lowered, she reaches for what she's always wanted….
With one disastrous marriage behind him Cesare vows never to go there again. But when his indiscretion with Emma has consequences, Cesare must break his own vow—and say I do for the sake of his heir. Now he'll expect his new bride to share his bed, instead of making it!