In The Art of Stealing Time (Traveller #2) by Katie MacAlister, Traveller Gregory Faa is a probationary member of the Watch which governs Otherworld laws regarding immortals and mortals. His latest case has him chasing after Gwen Owens, a beautiful Welsh woman thought to be selling Wiccan spells to mortals. When Greg is faced with losing her through a portal to Anwyn, the Welsh afterlife, he has to decide whether to follow her or to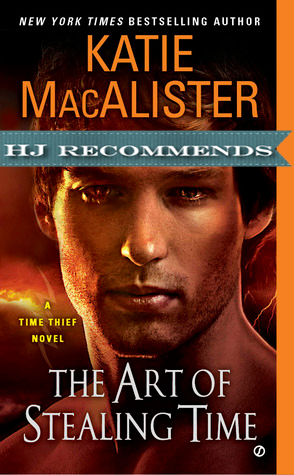 let Gwen get away. Using his abilities to steal time is frowned upon by his bosses, so Greg must be careful how he handles the situation. His decision on how to proceed will put his job and possibly even his heart on the line.
'By the gods, things were going to be different from here on out. He'd be damned before he believed a single word that came out of Gwen's delicious mouth.'
Alchemist Gwen Owens always seems to be helping her Wiccan moms stay out of trouble. Although this time they may have pushed their luck too far. The Watch is searching for them and has plans to arrest Gwen due to a misunderstanding. When they flee to Anwyn, she didn't think she would meet up with Greg again but he soon follows. She feels a pull between them that is almost magnetic, and even though he's her enemy, Gwen senses she can trust him. They stumble through camps that look like they're in a Renaissance fair and both get caught up in a war that resembles something out of Monty Python. Through it all, Gwen wonders how she will ever manage to keep her moms safe and get to keep Greg in her life?
'Trust the one organization that made my life a hell to bring my attention to a man who actually might well be the person with whom I wouldn't mind spending the next few hundred years.'
The Art of Stealing Time is a laugh-out-loud mix of modern and medieval times, full of non-stop action and unforgettable characters. This is my first introduction to the Traveller/Time Thief series by Katie MacAlister and I have absolutely fallen in love with her writing style. Seriously.
Katie's writing to me is sort of like a blend of Molly Harper and Jill Shalvis, who happen to be two of my favorite authors… She uses very intelligent yet snarky prose which lends to comical conversations amongst the unique characters who then end up in some I-Love-Lucy-type situations. And the descriptions of Anwyn (the afterlife) were so lush and vivid that it was easy to picture exactly what the scenes should look like.
Gwen was such a fun character to have as our heroine. She was hysterical, loving, loyal and brave. She was always looking out for her moms even though they made it difficult for her at every turn. Not on purpose of course. Just in their flighty, lovely, scatterbrained way. Greg was quite a dashing man full of old world charm and naughty thoughts who found himself smitten with the Welsh beauty. The secondary characters were equally as wonderful and creative: from Mrs Vanilla to Aaron and Ethan, to ummm…Death. Yep. Even Death himself makes an appearance.
The Art of Stealing Time is easily read as a standalone novel and even has a glossary in the back of it to help us better understand Gwen and Greg's world. I highly recommend checking this out if you love fantasy/paranormal romance. Very entertaining and endearing!
Book Info:

 HJ Recommends
Published September 3rd 2013 by Signet | (Traveller #2)
Experts in the art of stealing time, Travellers live on the edge of both mortal and immortal realms. But a few fight their outlaw instincts…
Gwenhwyfar Byron Owens learned everything she knows about potions and spells from her two Wiccan moms, who are forbidden by Otherworld laws from teaching magic to mortals. But when their latest transgression results in the kidnapping of a mortal woman, Gwen figures the only place to hide them all is in Anwyn, the Welsh afterlife…
But Gregory Faa—a member of the Watch—is hot on their heels. A Traveller who has stolen time, he's eager to prove himself worthy of the Watch, only he has a past with the dark-eyed Welsh beauty he's been charged with bringing to justice. He's tempted to just let Gwen disappear into Anwyn, until he realizes that she's being pursued by a squad of goons and death's minions.
Gwen is used to taking care of her moms and herself, so she can't give in to her heart's demand to trust Gregory, despite the fact that he's as handsome as the day is long—and the days in Anwyn can last centuries…