The Courage To Say Yes by Barbara Wallace: Hunter Smith makes a living looking at life through a lens. He's never in the pictures, and that's how things should be. After all, when you care, you always get hurt. His father taught him that – and that getting "the" shot is always the most important thing.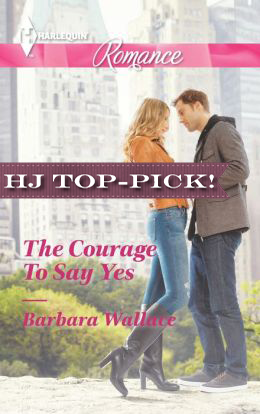 Abby Gray is not exactly the best waitress ever, but then the diner in which she works doesn't have the highest standards. It is, however, across the street from the enigmatic man that sits in her section every day. She usually gets his order wrong, but he doesn't seem to care. She knows he's handsome, polite, and from the ever-present camera – she assumes he's a photographer.
Warren is Abby's ex. She siphoned off a little of the household money for a year to get away from him, but even after months – he keeps coming back for her. That's the kind of relationship she was used to – having seen it all her life via her downtrodden mother, and when Warren came along and offered her a way out, she took it. She slowly worked up the courage to start fresh after seeing that he wasn't her "Prince Charming", and she wasn't going to let him back into her life.
As much as Hunter tells himself not to get involved, he can't stop from warning off Warren when he bullies her at work. After all, she doesn't deserve the bruises he's seen on her wrist – and if her cowering didn't give away the environment she had been in, he didn't know what would. When the dumpy ex decides to challenge him, he steps up and fights.
Abby is torn. She's surprised that someone wanted to intervene – but in doing so, she's out of a job and the small amount of security she'd had before the fight at the diner. She's even denied her last paycheck when her boss says he needs to keep it for the damage caused, even though he may have lost a couple of plates at the most.
Hunter sticks around after the police are done with him – Warren stupidly decided to press charges – and makes sure that Abby files for a restraining order. The cops aren't much help, but she does file, and Hunter actually talks to the woman he's been watching for weeks. He knows he's put her in a bad position work-wise, but he's not sorry he kept that scumbag's hands off her. To make up for it, he offers her temporary work cleaning and organizing his apartment – which is completely cluttered since he's on assignment a lot. She grudgingly accepts when she realizes it's a decent idea, but isn't sure if she's ready to spend more time with the guy who really does seem like a prince.
Hunter and Abby become friends even though they put up sturdy walls to guard themselves from feeling anything for each other. If that weren't bad enough, after another run-in with Warren, he firmly suggests she move into his guest room to stay a little safer. Even with him away for days at a time, they continue to grow closer. But with the way things are going – how can that be both a good thing and a bad thing?
I really loved this story. Both of the main characters were genuine and heartwrenching portrayals of fairly wretched emotionally scarred individuals. I went into the book thinking that it would be the standard "Perfect guy saves girl in trouble" story, but it surprised me in the best way possible. It's really the tale of two people learning to mend themselves until they can come together as equals. Such a great book!
Give yourself some time, because you'll most likely want to read it in one sitting – and keep a box of tissues handy. The words started to blur a couple of times, and I realized I felt like bawling. Touching and sweet – and the backstories were amazingly well-written.
Book Info

Publication Date: August 6, 2013 | Series: Harlequin Romance (Book 4390)
Can she find the courage to love all over again?
Hunter Smith likes to keep out of messy situations; life is just easier if you don't get emotionally involved. He's never been a knight in shining armor before—but when he sees Abby Gray in trouble, he can't stop himself from stepping in…
Trying to put the scars of the past behind her, Abby has decided to make a fresh start. Hunter's offer of making her his new assistant could be a step in just the right direction. But is she ready to believe that happy-ever-afters can happen in real life—not just in fairy tales?