In Getting Wild by Sarah Barrie, Ella Jameson is a ruthless, ambitious and successful Editor in Chief for Australia's top travel magazine.To her staff and the world, she is the devil incarnate with a don't mess with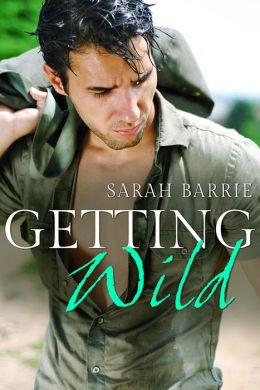 me attitude but she meets her match in Ryan Edwards.
Ryan is an adventure traveller, who has a work proposal for Ella and is determined to make her accept the same.He is everything Ella does not want in her life- a self‐indulgent, kamikaze, adrenaline‐junkie with an authority and a really sexy body and attitude. Now with the sparks flying,they embark on a journey of camping,crocodiles, and outback adventures and it is not long when things began to heat up between them.
Getting Wild is a fast paced adventure romance between two completely different characters. Ella was a completely different person than what she projected herself as and perhaps the best thing was her independence and the respect she had for herself. I liked that she was not a damsel in distress and could handle herself well, despite of the emotional baggage she had.
Ryan was relatively easier and more open about his feelings than Ella. I loved the way he treated Ella and the way he stood up to her. The story was good but had many parts which required some closure and I think somehow this made the story look little incomplete. The outdoor setting was good but not great and could have been made better.
Getting Wild by Sarah Barrie could have been better in many aspects but overall it is a good book and does not disappoint, with a fast pace and a good romance.
Book Info

Publisher: Escape Publishing – Harlequin Enterprises, Australia Pty Ltd (August 1, 2013)
The Devil Wears Prada meets Man vs Wild in this fast-paced romantic comedy set in the no-holds-barred world of travel journalism.
When Ella Jameson steps into a room, people scramble to attention. She's ruthless, terrifying, and untouchable — and very, very successful as Editor-in-Chief of Australia's top travel magazine.
Then Ryan Edwards, adventure traveller, walks into her office with an unexpected job proposal, and Ella just knows he's going to be trouble. As far as she's concerned, the man's a self-indulgent, kamikaze, adrenaline-junkie with an authority complex — and he's also infuriatingly sexy! The idea of them working together is ludicrous, but the opportunity to co-host a new travel show is just too good to refuse.
As she is swept from her world of inner-city glamour into a nightmare of camping, crocodiles, and outback adventures, Ella's feelings for Ryan begin to heat up, and her walls start to come down. In the tropical beauty of Australia's Top End, it's not just the weather that's going to sizzle…