The Crossfire Novels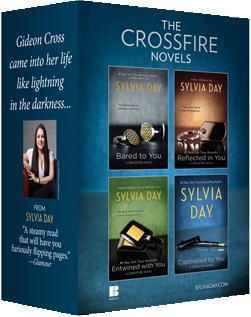 The Crossfire series by Sylvia Day captured my attention with the depth of emotions Gideon and Eva suffered/rejoiced through, and with the complexity of the plot in each book. Now, I know…it has been compared to 50 Shades time and time again. I will admit that the basic idea of an overprotective rich businessman and his youngish girlfriend is similar. But to me, that's where the similarity ends. The Crossfire books are more focused on the romance between Eva and Gideon, albeit with an edge of erotica, but not BDSM, which to me was the overwhelming factor in 50 Shades.
Don't get me wrong. I'm not saying anything negative against 50 Shades of Grey because I am a fan of that series as well. In my humble opinion though, Gideon and Eva's characters seemed to fit together better right from the start. Even though they shouldn't have worked so well together considering their individually tortured pasts, there was something so intense between them that I couldn't imagine them not staying together in the future. I felt like they could commiserate together and understood where each other was coming from having lived through their own tragedies and come out on the other side. That being said, here's the breakdown of each book and the overlying plot found within.


Bared to You (Crossfire #1) by Sylvia Day: This was where all the magic and drama began. Eva Tramell and Gideon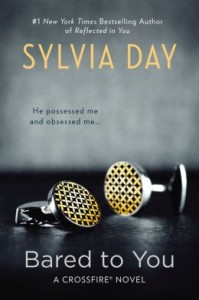 Cross's chance meeting outside his office building sparked a romance that would test their emotional limits.

Gideon had laser-like focus on making Eva his and protecting her from the outside world. She wasn't sure of his motives or that she could trust him. Without fully knowing what exactly happened to both of them in the past, it was clear that they had survived trauma that would haunt them the rest of their lives. There was a bit of a dark tone to the plot because of this, but Gideon, Eva, and her friends added humor and sometimes even playfulness to the scenes that lightened it up.
"Oh, Eva." He rubbed his cheek against my damp face. "I must've wished for you so hard and so often you had no choice but to come true."

Even though there was a lot of erotic dialogue and love scenes, there was still wonderful tenderness between Eva and Gideon which is what I loved most about them.


Reflected in You (Crossfire #2) by Sylvia Day: This book showed Eva and Gideon's relationship still evolving and in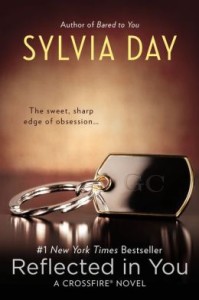 transition. They had admitted at this point that they were in love and it was all-encompassing. But jealousy and possessiveness started to creep in to their daily lives, leaving them unsure of how to proceed.
'I couldn't imagine that I'd ever fall in love again like I had with Gideon. For better or worse, he was my soulmate. The other half of me. In many ways, he was my reflection.'
I had my issues with both Gideon and Eva acting like jealous teenagers and pushing each other away. Important people from their past brought conflict and tension into their already complex dynamic. Although book one was obviously filled with a variety of emotions, this installment had me feeling every possible emotion I could think of and then some. Especially with the ending. It wasn't really a cliffhanger…but there was a definite revelation toward the end regarding Gideon.


Entwined with You (Crossfire #3) by Sylvia Day: The passion, drama, and secrets continued as Gideon and Eva took a new step forward in their relationship.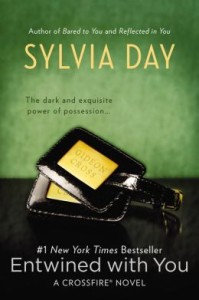 His idea of a way to fix their situation and keep a protective watch over her only seemed to create more complications. I thought we really got a true sense of not only the depth of how far Gideon was willing to go for Eva here (which really started from book one), but we also saw how devoted she was to helping him through the trauma of his past.
"…You're what drives me, Eva. Can you understand that? You're my heart and soul. If something ever happened to you it would kill me, too. Keeping you safe is goddamned self-preservation! Tolerate it for me, if you won't do it for yourself."
I surged into him, knocking him off-balance and onto his back. I kissed him hard, my heart pounding and blood roaring in my ears.
"I hate to freak you out," I murmured between desperate kisses, "but you've got it real bad for me."
There were a lot of plot changes that kept me on the edge of my seat and still more questions that would be left unanswered until the following book came out, if then, even.


Captivated by You (Crossfire #4) by Sylvia Day: A highly volatile installment. Eva and Gideon began to prove to their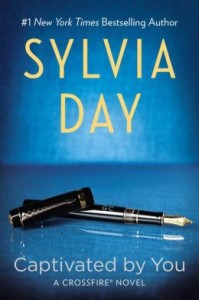 family and friends just how serious they were as a couple and it was met with much criticism.
"He buried his face in my throat. "Love you." Tears stung my eyes. He said the words so rarely. "Tell me again," I begged, holding on to him. His mouth found mine. "I love you…"
I thought Eva was even more determined here, digging in her heels to help Gideon move past his nightmares any way she could. I was frustrated the most with Gideon this time as his attitude toward becoming emotionally healthy was less-than-stellar. There was still intense chemistry between them and some poignant scenes. But the twist and turns this time around made it that much more difficult for Eva and Gideon to finally–finally!–get their HEA. At this point, there are two more books planned for the series.


So this was my honest take on the four books in the Crossfire Series. I personally loved Gideon and thought he was true book boyfriend material simply for the way he would give anything and everything to protect the one person he couldn't live without: Eva. How romantic is that? And Eva was a pretty tough cookie who had been through a lot but still wasn't too afraid to take a chance on her true love. I admired her spunk and tenacity. Sure she made some mistakes–they both did–and may have been a bit leery of Gideon at times, but I thought Eva was a solid heroine with a lot of depth.

I'm sure everyone will have their own opinions on these stories, and I encourage readers to make those feelings known by leaving a comment.
All I ask for is no bashing or negativity, please.

But otherwise…let us know if you've already read these titles, if you're a fan of the series, whether you plan to read any of these books, or if it's just not your thing.


Book Info

Published January 27th 2015 by Berkley Trade
There's nothing more romantic than Valentine's Day…except Sylvia Day.
Now in one deluxe box set, the first four novels in the Crossfire series.
The #1 New York Times bestselling author. The #1 worldwide phenomenon.
Bared to You
He was beautiful and brilliant, jagged and white-hot. I was drawn to him as I'd never been to anything or anyone in my life. I craved his touch like a drug, even knowing it would weaken me. I was flawed and damaged, and he opened those cracks in me so easily…
Gideon knew. He had demons of his own. And we would become the mirrors that reflected each other's most private wounds… and desires.
The bonds of his love transformed me, even as I prayed that the torment of our pasts didn't tear us apart…
Reflected in You
Gideon Cross. As beautiful and flawless on the outside as he was damaged and tormented on the inside. He was a bright, scorching flame that singed me with the darkest of pleasures. I couldn't stay away. I didn't want to. He was my addiction… my every desire… mine.
My past was as violent as his, and I was just as broken. We'd never work. It was too hard, too painful… except when it was perfect. Those moments when the driving hunger and desperate love were the most exquisite insanity.
We were bound by our need. And our passion would take us beyond our limits to the sweetest, sharpest edge of obsession…
Entwined with You
From the moment I first met Gideon Cross, I recognized something in him that I needed. Something I couldn't resist. I also saw the dangerous and damaged soul inside—so much like my own. I was drawn to it. I needed him as surely as I needed my heart to beat.
No one knows how much he risked for me. How much I'd been threatened, or just how dark and desperate the shadow of our pasts would become.
Entwined by our secrets, we tried to defy the odds. We made our own rules and surrendered completely to the exquisite power of possession…
Captivated by You
Gideon calls me his angel, but he's the miracle in my life. My gorgeous, wounded warrior, so determined to slay my demons while refusing to face his own.
The vows we'd exchanged should have bound us tighter than blood and flesh. Instead they opened old wounds, exposed pain and insecurities, and lured bitter enemies out of the shadows. I felt him slipping from my grasp, my greatest fears becoming my reality, my love tested in ways I wasn't sure I was strong enough to bear.
At the brightest time in our lives, the darkness of his past encroached and threatened everything we'd worked so hard for. We faced a terrible choice: the familiar safety of the lives we'd had before each other or the fight for a future that suddenly seemed an impossible and hopeless dream…