Fifty Shades Trilogy by E.L. James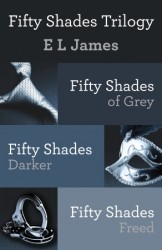 Okay, so here we go. Fifty Shades by E.L. James. The trilogy that sparked a frenzy and created millions of fans and haters alike is now a major motion picture coming out on Valentine's Day 2015.

So in honor of that, this review will simply be my honest and humble opinion about each of the three books with a few quotes thrown in for fun.

I have to say that this was the first erotica/BDSM I had ever read at the time (a couple of years ago), so this trilogy is what introduced me to a genre of which I am now a big fan. What a way to start, right? So without further adieu, we will begin at the beginning.


Fifty Shades of Grey (Fifty Shades #1): My overall favorite out of the three. This was where Ana and Christian obviously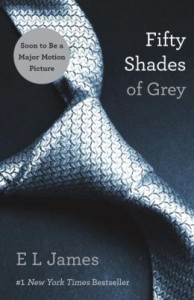 met and entered into their arrangement as Dom & sub.
I really liked that Christian was as thrown off-balance by their intense chemistry as Ana was, given how much more experience he'd had in physical relationships. She was also a lot stronger and braver than I think people have given her credit for in reviews. There were a lot of times when Ana stood up to Christian when no one else would have dared to…or would have gotten away with it. Of course their initial love scenes–both vanilla and BDSM–were extremely detailed in relation to Ana's emotions and portrayed both her confusion and longing for Christian.
One of my favorite quirky parts of this book? The emails they send back and forth. Quite amusing and very charming.
"You are one brave young woman," he whispers. "I am in awe of you."
His words are like some kind of incendiary device; my blood flames. He leans down and kisses my lips gently, and he sucks at my lower lip.
"I want to bite this lip," he murmurs against my mouth, and carefully he tugs at it with his teeth. I moan, and he smiles.
"Please, Ana, let me make love to you."
Fifty Shades Darker by E.L. James:  Probably my least favorite of the bunch. Don't get me wrong. This was a very, very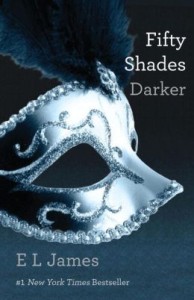 important book in the series. But the second book of a trilogy a lot of times is the transitional story, where the characters clash or a big secret is revealed and then doesn't get resolved until the final installment.
In this case, Ana began to find out the details behind why Christian was Dominant and why he chose certain types of women as his subs. I'll admit that at that point, which is a little more than halfway through the book, I almost stopped reading. That shocking revelation bothered me at first. However, as I progressed further into Christian's life and realized how much having Ana in his life was changing him for the better, I was okay with it. All of the books are highly emotional, but this one in particular seemed even more so. Definitely was aptly named as it had a darker tone to it as well.
"Christian? What are you doing?" My voice is high-pitched. He doesn't move. "Christian, look at me!" I command in panic.
His head sweeps up without hesitation, and he regards me passively with his cool gray gaze – he's almost serene…expectant.
Holy Fuck…Christian, The Submissive.


Fifty Shades Freed by E.L. James: My second favorite book. Everything wrapped up nicely by the end of this one and the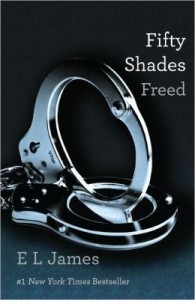 thread of mystery surrounding all the issues happening to Ana and Christian were solved. And honestly, I figured out who was behind everything but SO did not see the reason. Loved that surprise! The tone was not as dark as book two but still had an edge to it.
I think my favorite part, though, was how Ana really came in to her own here. She had more confidence in herself and started demanding respect from certain people. Her relationship with Christian was just as complicated, if not even more so. But things worked out better than I could have ever foreseen. And to top it all off, in many versions of this book, there is a bonus at the end entitled: Shades of Christian, which is basically his POV for the first chapter or so of book one. There's also a scene detailing his first Christmas with his new family. What an eye-opener that was. Poor Fifty…his astonishingly harsh childhood before he was adopted still breaks my heart.
"My world was ordered, calm, and controlled, then you came into my life with your smart mouth, your innocence, your beauty, and your quiet temerity…and everything before you was just dull, empty, mediocre…it was nothing."


So those are my thoughts in a nutshell.

Like I said before, this was my first foray into the erotica genre and it made a huge impression on me. I personally enjoyed E.L. James's writing style very much and thought she did a great job showcasing the difference between Ana's naivete and Christian's controlling ways.

Now, I know everyone out there reading this will have some opinions on the whole 50 Shades experience…and I welcome them all. Good. Bad. Indifferent. Just no book slamming or author slamming, please.

And if you happen to see the movie this Valentine's Day, please stop by and give us your opinion on that as well!


Book Info:

Published January 20th 2012 by Vintage
Now available in a single volume, E L James's New York Times #1 bestselling trilogy has been hailed by Entertainment Weekly as being "in a class by itself." Beginning with the GoodReads Choice Award Romance Finalist Fifty Shades of Grey, the Fifty Shades Trilogy will obsess you, possess you, and stay with you forever.
This bundle includes the following novels:
FIFTY SHADES OF GREY: When college student Anastasia Steele goes to interview young entrepreneur Christian Grey, she encounters a man who is beautiful, brilliant, and intimidating. The unworldly Ana realizes she wants this man, and Grey admits he wants her, too—but on his own terms. When the couple embarks on a daring, passionately physical affair, Ana discovers Christian's secrets and explores her own desires.
FIFTY SHADES DARKER: Daunted by Christian's dark secrets and singular tastes, Ana has broken off their relationship to start a new career. But desire for Christian still dominates her every waking thought. They rekindle their searing sensual affair, and while Christian wrestles with his inner demons, Ana is forced to make the most important decision of her life.
FIFTY SHADES FREED: Now, Ana and Christian have it all—love, passion, intimacy, wealth, and a world of possibilities for their future. But Ana knows that loving her Fifty Shades will not be easy, and that being together will pose challenges that neither of them would anticipate. Just when it seems that their strength together will eclipse any obstacle, misfortune, malice, and fate conspire to turn Ana's deepest fears into reality.
This book is intended for mature audiences.