The most memorable kiss of her life with a stranger is the starting point of Annie West's fantastic new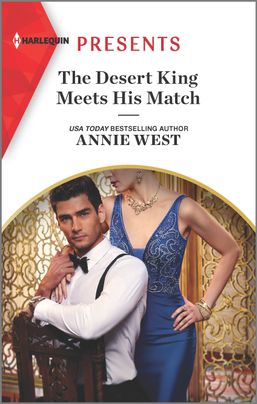 adventure The Desert King Meets His Match.
Matchmaker Rosanna is tasked with finding the Sheikh of Dhalkur, Salim, a wife. It seems Rosanna isn't the only one who was affected by their kiss. Being the professional she is and knowing her Grandmother's reputation is on the line Rosanna does her best to be professional but it's challenging when Salim rejects every recommendation for every reason under the sun. When confessions are made, Salim and Rosanna agree to a week together to settle their underlying currents of tension and passion. This leads Salim to wonder if Rosanna is as unsuitable as he first thought and Rosanna to despair because if anything, this week together has just made things worse!
Reading an Annie West story I'm always guaranteed a sweeping story in majestic lands which are incredibly captured. Salim and Rosanna fall in love and it's harnessed along the way. Salim is a brilliant Sheikh, handsome, demanding, royal to a t. Rosanna is likeable and a joy to read. By the time the end chapters near I believed in their happy ever after and was curious how the roadblocks were going to be dealt with.
Not a series but connected to The Sheikh's Marriage Proclamation.
A genuinely beautiful, sweeping story which I adored.
Book Info:

Publication: September 2022 | Harlequin Presents |
The new Sheikh of Dhalkur must find a wife—immediately—so he outsources the task to an expert. But once he's introduced to matchmaker Rosanna MacIain, Salim is hit with a red-hot jolt of recognition. She's the captivating stranger from an electric encounter he never forgot!
Unfazed by his royal status, Rosanna challenges Salim like no one ever has. And ignites a desire in him like no one ever has! She's entirely unsuitable as his queen, but their unique chemistry is enough to drive all other candidates from his mind…