The Do-Over by M.K. Schiller is one of the best books I have read within the "relationship of convenience" trope. The plot is fresh, original and funny, in addition to being emotionally charged. The classic nerdy woman winning the hunky guy is at play here as well. There are many character revelations that ultimately bring the hero and heroine together indefinitely.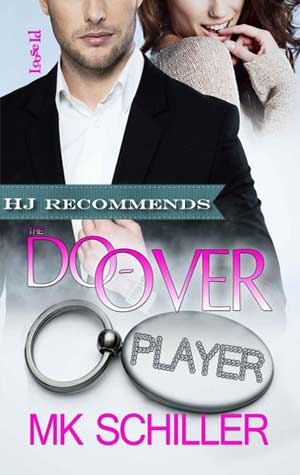 Kyle Manchester is a well known, honest journalist and takes great pride in the work he produces. With that said, he is also an arrogant womanizer, using his good looks and charming personality to love 'em and leave 'em. When his best friend Brad asks, or should I say begs him to go on a blind date with his girlfriend's sister, he reluctantly agrees.
Lanie Carmichael is a smart, successful attorney that prefers to remain in the background. Her dowdy and frumpy appearance contributes to her behind the scenes persona. However, she is always fighting for the greater good, succeeds, and then passes the fame off to one of her colleagues. Because Lanie believes even bad family are deserving, she allows her nasty, backstabbing, model-like sister Cassie to live with her. Cassie is dating Brad, an attorney with Lanie's law firm and Lanie believes she is in love with him.
Kyle and Lanie's blind date turns into a mutual partnership. Kyle agrees to help Lanie win-over Brad and in return, Kyle will write an in depth article about one of Lanie's clients that will expose criminal activity at its worst. The exposé will undoubtedly help her client and give Kyle's career a boost to the next level in journalism. A win-win for all.
Kyle and Lanie spend lots of time together, which evolves a friendship into much, much more. Their chemistry is off the charts and slowly but surely they realize that they are in love with each other. However, many obstacles and barriers must be settled before they can contemplate a future together. Needless to say, Brad is no longer in the running.
Wow, I truly loved this book, it was a hard one to put down. Lanie's character really infiltrated my heart. Her abusive and unloving upbringing which evolved into a hideous adult relationship with both her sister and mother was eye opening and scary. My heart ached for her while I felt nothing but pure joy for the strong, independent woman she has become. Kyle's transformation from playboy to caring boyfriend and protector was a delight to witness.
I love how the author developed Kyle and Lanie's relationship, balancing friendship with mind-blowing sex and love. Overall, a great book that should not be missed.
Book Info:

Published October 7th 2013 by Loose Id
Arrogant womanizer Kyle Manchester hates blind dates; however, when best friend, Brad calls in a favor, insisting Kyle take out his girlfriend's sister, Kyle reluctantly agrees. Attorney Lanie Carmichael's appearance is no surprise. She is dowdy, awkward, and dressed in so many layers she resembles a wedding cake, but not in an edible way. Her brazen attitude though, astonishes him, especially when she explains she has no interest in gorgeous Kyle. Lanie Carmichael is in love with Brad, and wants Kyle's assistance in winning his best friend's heart.
Kyle gradually accepts, justifying that the mystery of Lanie has sparked his natural, thirsty curiosity. As an ambitious journalist, he also can't resist the Pulitzer worthy scoop she offers him. However, as Lanie sheds more layers, both emotionally and physically, Kyle begins to examine his life choices, and his true feelings for this enigmatic girl. With Kyle's support, Lanie begins to unravel the secrets of her past, and the deep pain that has quietly defined her life. As they each learn more about themselves and each other, both question how a relationship built on fraudulent lies between two broken people could ever survive.