Loving Lord Ash by Sally MacKenzie is like a meringue cookie; it's light, sweet, enjoyable and too quickly finished.
The premise is a tad farfetched, but it does set up the rest of the book beautifully. Eight years earlier, the Marquis of Ashton (Ash), heir to the Duke of Greycliffe, married Jess, the daughter of the head groom, and his best friend. Directly after the wedding, he deserted her at a remote manor house. He left her there because he believed that she had relations with Percy, a neighbor and childhood playmate. Although Ash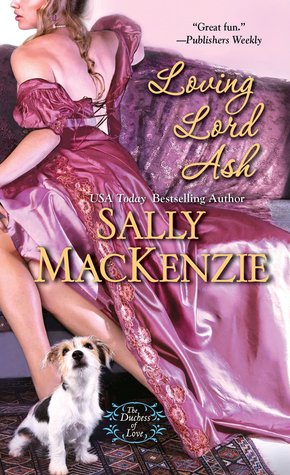 had married her out of sense of responsibility, and because he desperately, secretly loved her, he could not bring himself to live with her after that betrayal. However, now he has just turned thirty, he needs to produce an heir or divorce her to marry another, and so he is traveling to see her.
Jess has been marooned out in Blackweith Manor for eight long tedious years, filling her days with painting, and not always landscapes, scandalously surrounded by only male servants, who have no carnal interest in her. The moment that Ash appears at the manor, he finds her in yet another compromising position, this time with a naked footman. For years he has heard tales of her infidelity, and, disgusted, he leaves without allowing her to explain, declaring that he will divorce her. Jess, still in love with him, and encouraged by her friends on the staff, goes after him, with a proposal: that they would try to become friends again, and produce an heir.
Fulfilling this proposal, however, will be a challenge. Not only is Ash's mother a duchess but a famous society matchmaker and expert on love, evil rumors (and gossipers) abound, and despite the desire that exists between them, there is no trust, and they'll need belief in each other, and some fisticuffs, to come together in love.
There are flaws. The main characters act like children much of the time, instead of the grown adults that they are. In eight years apart nothing fundamental seems to have changed for either of them and they are able to pick up their relationship as if only a short time has gone by. The protagonists are not necessarily evil, but dull people who do bad things. Finally, interesting subplots are created, and then left to wither. One of these subplots concerns Baron Trendal, who is also the naked footman, and I would have enjoyed learning more about him.
Altogether, this is a sweet story, somewhat complicated in structure, with many characters and plot threads wandering through it. At the heart, it's a story about two people who understand fidelity, but not faith, and how they learn to bring the two elements together despite the roadblocks that they and others put in the way. It is the third book in the Duchess of Love series about the Greycliffe family, and I had only previously read the novella prequel to the series, the self-titled Duchess of Love. Loving Lord Ash stands alone; if you have not read any of the other books you will not be lost since adequate but not lengthy explanations are given about the other family members.
Book Info:

Publication: March 4th 2014 by Zebra
A Little Misunderstanding. . .
Kit, the Marquis of Ashton, is in a sticky wicket. He married young and for love—how naïve. He discovered his mistake the very day of his wedding, but he is saddled now with a wife he's reluctant to trust. And however much evidence he gathers against faithless Jess, he can't seem to prove her guilt to the final judge—his foolish heart.
Jessica knows she's bobbled her marriage, however innocently. A fairytale wedding makes no difference if she hasn't got the marquis charmed to show for it. Well, she's had enough of accidental encounters with naked gentlemen and near misses explaining things to her husband. It's time to buck up and go win her man back—even if she has to fight very dirty indeed.