In The Doctor's Wife for Keeps (Rescued Hearts #1) by Alison Roberts, Luke Anderson and Kate Saunders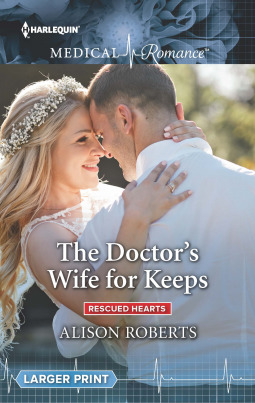 haven't seen each other in years, but when they meet again sparks fly. However, with a failed marriage already, Luke doesn't know if he'll ever be ready to take a chance on happy ever after again. Yet, they made a pact in college and Luke is determined to stick to it. Will he be able to convince Kate to take a chance, or will they both walk away from the one person that can make them completely happy?
"Casual sex has never appealed to me."
"Yeah…you're so old school, Kate. An ultimate romantic. You really believe that you're going to see 'the one' across a crowded room and it'll be love at first sight and a happy ever after with a few bluebirds fluttering over the carpet of rose petals and…"
This story was a wonderful and emotional read, which had me hooked from the prologue, as Kate and her best friend Georgia are on their way to an international medical rescue competition, which sounds like it would be a very exciting adventure for the two women. However, this story was also an enthralling read because Kate and Georgia are two very different women with Kate wanting to find her soul mate and Georgia determined to go it alone in having a baby and not wanting a relationship. Will they both get what they want? Yet, it was from the moment the hero and heroine come face-to-face for the first time that had me loving this book, as Luke is determined to see that they keep the promise they made to each other. Will he be able to convince Kate to take a chance? Will Luke be able to give Kate the love she deserves after what he went through with his ex-wife?
"Cheers." She said. "I have to say, you're probably the last person I would have expected to run into here. Have you changed specialties and gone into emergency medicine?"
"No. I'm still a paediatric surgeon but I do specialise in trauma cases. It's Matt's fault I'm here."
"Snap," Kate told him. "Georgia entered me as a birthday present. She said I needed some adventure in my life."
"And do you?" There was a question in Luke's eyes that went far deeper than the amused query.
Both the main characters were fantastic, and I loved everything they go through on their journey to happy ever after, which was a combination of intense moments such as what happens to the heroine that makes her shut Luke out and fascinating banter between the pair that shows how close they once were. Will they be able to go back to the way things were in the past before they lost touch with the other? Will Luke's bitterness towards love and relationships be too much that Kate decides to walk away from everything they could have together?
As for the heroine, she's strong and brave with the way she handles Luke coming back into her life, trying to stick to the rules of their arrangement and what happens to her that leaves her devastated. I also liked how much she enjoys the adventure of the medical rescue competition and how skilled she is in coping under pressure. Will she and Georgia win the competition? While Luke, he's been burned badly when it comes to love and relationships and I could understand his attitude towards not wanting to give happy ever after another chance. However, in saying that, I liked how his relationship with Kate blossomed from friendship to love, and how the critical moment of this story makes him realize that he isn't opposed to forever after as much as he thought. That, in fact, with the right woman he could see himself settling down again. And certainly, Kate is the right woman. I also liked how Luke handled the pressure of the competition and how well he and Matteo worked together. He's definitely very good at his job and loves what he does, which is proven by what he does during the competition and then later when he's back working at the hospital where he works. Will Luke and Matteo come out on top against Kate and Georgia?
"When?" Luke asked. "When did you break the rules?"
"That first night we had dinner. At that Italian restaurant?" Kate had to smile. "Just before you said how much better it was just to be friends and how you could never trust being in love. When you persuaded me to give the pact a go."
Overall, Ms. Roberts has delivered a really good read in this book filled with tough obstacles for the characters to overcome, but obstacles they overcame with plenty of courage; the chemistry was strong and had me loving these two together, as they work to get their friendship back and then make things even better between them with love and happiness being the ultimate goal; and the ending had me crying and sympathizing because of what happens to the heroine, yet had me smiling because of how things work out for the best between these two because Kate's dream finally came true and Luke was determined to make it even better for her. I would recommend The Doctor's Wife for Keeps by Alison Roberts, if you enjoy second chance romances, the friends to lovers trope, or books by authors Amy Ruttan, Annie O'Neill, Emily Forbes and Tina Beckett.

Book Info:

Publication: January 16th, 2018 | Harlequin Medical | Rescued Hearts #1
Surgeon Luke Anderson let her go once… But this time around he'll get down on one knee!
Seeing pediatrician Kate Saunders again, Luke can feel the chemistry that still sizzles between them. But bruised from his failed marriage, he doesn't believe in happy-ever-afters anymore. Until he's reminded of the marriage pact they made in college…and realizes Kate may be the one woman who was worth waiting for!