The Dream by Whitney Dineen: Ashley's mother decides to move the two of them from Chicago to the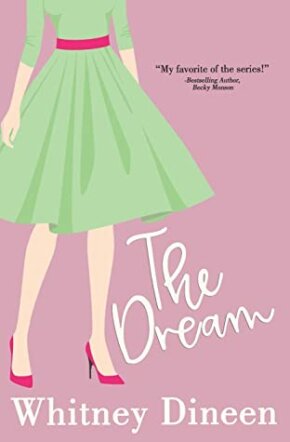 small town of Creek Water, Missouri, thinking it will be a fresh start for both of them. Instead of making friends at her new high school, she is treated very poorly by many of the students who see her as "trailer trash" since she lives in a local mobile home park. Her only real friend is Buck who lives a couple trailers down from her. He is into the goth vibe and is an outsider, too.
Ashley and her mother love all the John Hughes movies with Molly Ringwald. When her mother buys her a diary with "Dream" on the cover, Ashley writes each entry as a letter to Molly. The author includes these at the beginning of many chapters. It is a clever way to show the deep angst and trauma Ashley suffered during her high school days.
Ashley had a huge crush on Davis Frothingham during those years. He did become her savior at their senior prom when she was attacked by Chad who has made her life a living hell from her first day at school.
Ashley's friend Buck now goes by the name Alexander and has become a big success. He lives in England while Ashely is still in Creek Water. She had bigger dreams, but once her mother became terminally ill, those were postponed . She has earned her degree and works at a local assisted living facility, as well as another part-time job. At thirty, her main goal is to finally get our of the trailer park and have a home of her own.
Thanks to working at the assisted living home, she comes in contact with Davis again, as his elderly grandmother needs the help given for her health and dementia. The family wants to bring the older lady home for Sunday dinners, so Ashely is enlisted as a companion on these excursions. The Frothingham family welcomes her with open arms, but does Davis even remember her from high school and is he extra nice to her just because she is so helpful?
This charming novel is ranked as a rom-com. There are some truly laugh out moments. At the same time there are poignant times that may have you reaching for a tissue. There are times when I had to ask myself if I could get past the cruelties that were inflicted on Ashley. She is 30 and not that far removed from all that.
All the characters felt very authentic as the author showed them "warts and all". Even the most despicable ones have their own dreams, just as Ashely has.
Book Info:

Publication: June 14, 2020 | 33 Partners Publishing | Creek Water
Ashley has loved the same boy since high school. She knew Davis Frothingham was special even before he championed her at her senior prom. She also knew he was completely out of her league.
Years later, her attraction for him is still there, but Davis? He doesn't even remember her.
When Ashley is tasked with being the nurse for Davis' terminally ill grandmother, she's thrown back into his world. More than anything, she wants him to remember her, but that recollection could come at a price of its own.
Can Ashley accept that she's good enough for Davis? And can Davis learn to love a girl from the wrong side of the tracks? Find out in this delightfully fun romcom about love and life in Creek Water, Missouri!