In The Duke (Devil's Duke #3) by Katharine Ashe, Adventure was never far from Lady Amarantha Vale's mind while growing up in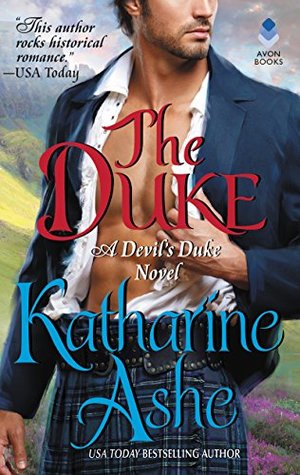 England. But she never dreamed that she'd one day set sail to part of the Colonies, the island of Jamaica, betrothed to a reverend and ready to help the local struggling community. All goes as planned until Amarantha finds shelter from a raging storm and in doing so meets Captain Gabriel Hume. The Scottish naval officer is the most handsome and beguiling man she's ever met and tempts her like no other. They soon begin a friendship of sorts, with deeper feelings fighting to get free–until he breaks a promise, setting them on very different paths. When those paths meet up again over five years later and Amarantha finds out the truth about Gabriel, she's not sure she will be able to outrun her feelings this time.
"What if I run away across the room now? Will you come after the key?"
"Go ahead." It was more animal snarl than human speech. "Run." His thumb traced a line up the side of her breast, and decadent pleasure curled through her. "'Tis what you always prefer."
Gabriel has spent the last several years hiding an important secret, the part of his life that he has spent trying to atone for his recklessness as a youth. One thing he has never forgotten is Amarantha. She may have broken his heart but somehow he still aches for her. Gabriel is currently struggling to make costly improvements at Kallin and Haiknayes, his family properties in Scotland, all while racking up a dangerous reputation. He doesn't mind being called the Devil's Duke and actually finds it rather fitting, given that he's had some dark moments and dealings in his life. But when Amarantha shows up in Scotland, Gabriel knows his secrets may no longer be safe. Especially considering his heart is fully engaged with the wild beauty all over again. And this time he's going to see things through until the end, hopefully winning Amarantha's heart in the process.
"Judas, woman," he uttered low, "how you command me–my every breath and thought and wish."
What a whirlwind of a romance The Duke turned out to be. Written with Katharine Ashe's distinctive, lush prose and attention to detail, this was one historical that, while I loved the writing itself, it may have had a few too many characters and subplots for its own good.
"What name will you invent for me now that all the others no longer suit?"
She tasted his mouth again, then again, and pressed her nose to his skin and breathed him in.
"A name that I think has suited you all along."
"Aye, lass? What's that?"
She whispered, "Mine."
It actually pains me to give The Duke a 3 star rating as I am a huge fan of Ashe's work. And it's nothing against the writing, the plot, or the characters themselves. I did enjoy all of that overall. There was just too much of…everything. There were so many people to keep track of, a few having a huge part in the storyline, some we briefly met, and others being introduced for the next installment (yes, per Ashe's notes at the end, there will be a book about Ziyaeddin and Libby). And the subplots–slavery, murder, adultery and domestic abuse, women's rights. While they were all fascinating on their own, I had trouble pulling the threads together to turn it all into a cohesive, solid story. Sadly, I felt a bit lost most of the time.
Our hero and heroine, Gabriel and Amarantha, were both dynamic characters, fiercely independent and each having restless souls. I alternated between chuckling at their fiery dialogue and then getting frustrated as I watched them push each other away over and over and over again. It was obvious they were both very caring, loyal people and I adored that they were forever willing to help someone in need. However, there was a severe lack of communication between Amarantha and Gabriel. It felt like they never truly had a full, serious conversation. Instead they danced around the real issues, with one of them ultimately telling the other to "go". I did enjoy (as always) the way Ashe described Gabriel's and Amarantha's affection for each other and how wonderfully she conveyed those feelings with such depth. That ability to evoke emotion is what actually held my interest and kept this from being an even lower rating.
While not my favorite of the series or of Katharine Ashe's work in general, there were still enough bright spots in The Duke to help me soldier on till the end. I hope Ziya and Libby's upcoming romance will capitalize on the sparks we briefly saw between them here and that the story itself will feel a bit more pulled together.

Book Info: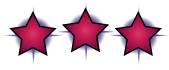 Publication: Published September 26th 2017 | Avon | Devil's Duke #3
Six years ago, when Lady Amarantha Vale was an innocent in a foreign land and Gabriel Hume was a young naval officer, they met . . . and played with fire.
Now Gabriel is the dark lord known to society as the Devil's Duke, a notorious recluse hidden away in a castle in the Highlands. Only Amarantha knows the truth about him, and she won't be intimidated. He is the one man who can give her the answers she needs.
But Gabriel cannot let her learn his darkest secret. So begins a game of wit and desire that proves seduction is more satisfying—and much more wicked—the second time around…