The Duke Effect by Sophie Jordan is the seventh book in the Rogue Files series. It was fast-paced, easy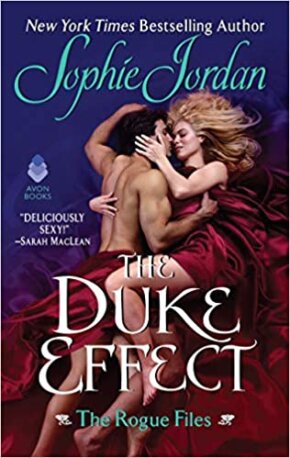 to read, with a slow burn romance. The plot was developed, and the characters were genuine. The author correctly portrayed the period of time and popular opinions on women in the medical field. Women were not allowed to attend medical school, and many thought it was not an appropriate field for women. I enjoyed seeing some of the characters from the previous books. The Langley sisters had a close relationship in the first book, so it was nice to see they were still close in this book.
Constantine "Con" Sinclair had to give up his career as a soldier when he became heir to the Duke of Birchwood. He never expected his three cousins to die and leave him next in line. He returns to England determined to learn all he needs to about the estates. He feels obligated to continue the engagement his cousin had to Lady Elise. He tries to please the duke and duchess since they had taken him in and raised him when he became an orphan. When he sees how sick the duchess is, he seeks out the physician he had been corresponding with for years to see if there was any treatment to help the duchess. When he finds out Dr. Langley has died and he had been corresponding with Nora, the physician's daughter, he feels betrayed and angry. Con insists that everyone is told the truth of Nora's deception.
Nora Langley was an independent, forward-thinking female and was more interested in herbs and medical topics than marriage. As she grew up, she spent most of her time helping her father who was a physician. She continued helping the sick and answering his correspondence after he died. Nora wanted to go to medical school but at the time women were not allowed to attend. So, when she meets Con and he insists on telling everyone that Nora was replying to her father's correspondence she knew people would stop seeking her help and was afraid of losing her purpose in life. She decides to follow Con to London and convince him to keep her secret. If she can help the duchess and prove her knowledge, maybe he will keep her secret.
The attraction between Nora and Con was slow to develop but grew along with their friendship. The ending of the book did feel rushed, but I loved the epilogue and seeing Nora's wish of going to medical school come true. Overall it was a fun book to read.

Book Info:

Publication: October 27th 2020 | Avon | The Rogue Files #7
She doesn't care about love…
Despite being surrounded by her happily wed sisters, Nora Langley prefers botany to ballrooms and would rather spend a lifetime in her laboratory than consider affairs of the heart. An expert herbalist, Nora has been masquerading as her late physician father for years, dispensing invaluable medical advice. She corresponds with people all over the world, including an old army colonel. But when the man shows up on her doorstep, he is nothing like she expected—he is a young, handsome heir to a dukedom who suddenly threatens everything she holds dear.
He only cares about duty…
Constantine Sinclair arrives on the Langley doorstep in a desperate bid to save the woman who raised him, the Duchess of Birchwood… only to discover that the venerable doctor he expected is a bold and lovely charlatan. Furious at the deception, he vows to reveal her secrets. Determined to prove her skills, Nora promises to save the duchess in exchange for Con keeping her secret. Con reluctantly agrees… and soon, Nora's brilliant, headstrong ways are throwing his carefully controlled life into chaos. What happens when the rigid soldier begins to lose his grip on his heart?