The Rebound by Stefanie London is a steamy romance for an almost bride who sees the light, and her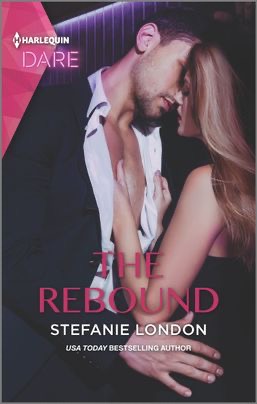 getaway driver.
When Presley Richardson overhears her fiance Mike saying he's only marrying her to move up in his step-father's company at the wedding venue, she knows the only thing to do is get out before she lets the marriage ceremony take place. Her luck holds when she scrambles out the window in her lingerie straight into the seat of a car driven by her fiance's step-brother who is late for the wedding. She fakes that she's a bridesmaid, but Sebastian Foster learns pretty quickly that the woman he helped escape was none other than the bride herself.
Though their relationship certainly starts off on a unique note, they become friends, and then friends with benefits. They both know it's a rebound fling and are okay with it since there's no chance that they can become a real couple – or is there?
I enjoyed this sexy, fun romance! Presley is introduced in The Fling (her twin sister Drew's story) and she was a bit of a bridezilla there in the runup to the wedding so it was interesting to see things from her perspective. (In The Fling, Drew had reservations about Presley's fiance Mike which turned out to be accurate). The runaway bride (for legitimate reasons) deserves to find someone who appreciates her and in this story, Sebastian can't believe that his step-brother Mike doesn't see how amazing Presley is. Presley finds in Sebastian someone with whom she can she share her intimate fantasies, leading to some steamy love scenes (including a little exhibitionism).
Of course their relationship is complicated by family issues, specifically Sebastian's as his quest to become the CEO of his father's company is now in jeopardy since he's sleeping with his step-brother's ex. He and his father have had an estrangement lasting several years and this certainly isn't going to fix it. But in the end he figures out what will work best for everyone involved, including he and Presley. Their satisfying happy ending caps off a sexy whirlwind romance.
Book Info:

Publication: Sep 01, 2020 | Harlequin Dare | Close Quarters #3
Bolting from the church half-naked was not part of the official wedding program…until I learned my husband-to-be was marrying me only for his father's approval. How was I to know my incredibly hot getaway driver was the groom's evil stepbrother? Or that diving into his sleek black Mercedes would be the first step on my journey to the dark side?
Wealthy executive Sebastian Foster is a bad decision waiting to happen—all hard muscles, square jaw and eyes that strip me bare. But I'm done being the good girl, done following the rules. It's time to give up my perfectly planned life and embrace my inner siren.
Soon Sebastian is my sexy sidekick at Melbourne's most exclusive nightclubs. Dancing burlesque for him makes us both crave a night of sensual sin. I'm starting to think this forbidden rebound may lead to something much deeper. But when I learn he's hunting for information about my ex, I can't help wondering—is he just another ambitious man using me to get ahead?