In The Duke of Her Desire (Diamonds in the Rough #2) by Sophie Barnes, Intent on leaving his mark in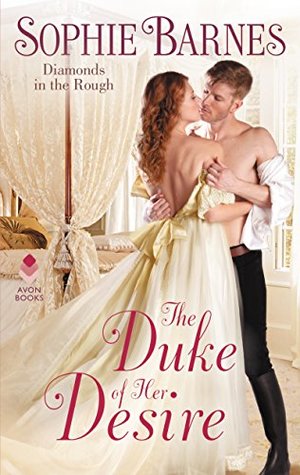 the House of Lords by getting a controversial bill passed, Thomas Heathmore, the Duke of Coventry, has better things to concentrate on than balls and soirees. But when his closest friend, Raphe Matthews, the Duke of Huntley, asks him to watch out for his two younger sisters as they enter the Marriage Mart, Thomas of course agrees. He's tasked with helping to find a suitable match for Lady Amelia. Only with every eligible gentleman who tries to gain her attention, Thomas finds himself jealous. His life is complicated enough, with a guilt and grief-filled family secret niggling at his mind all the time, along with the responsibilities of his title. But Thomas can't deny his desire for Amelia. As the strong-willed young woman works her way into his heart, he'll also have to keep her safe, as they come across an enemy willing to do anything to thwart his and Amelia's plans.
'God…the way he felt about her. He'd be damned if he could put it into words, but he knew he ached to be close to her, to hold her in his arms and to bask in her vitality.'
Amelia must admit that she's having a difficult time transitioning from that of a woman with no prospects, living with the dregs of London in St. Giles, and now finding herself among the Ton's most elite. She's thankful that it now gives her the opportunity to give back, though, with her plans to open a school for the children of St. Giles. If only Amelia could spend her time working on her plans instead of being pushed into attending grand balls. One perk is getting to be escorted by Thomas. It's also a frank reminder that she'll never quite be up to snuff, as the other young women so happily point out. Amelia's crush on Thomas seems to wax and wane the more she gets to know him. For while he's handsome and loyal, he's also frustrating and stubborn. But when it comes right down to it, she might have to admit defeat in their battle of wills when Thomas proves his ability to keep Amelia's best interests at heart–and proves his affection for her.
"You domineering, aristocratic, high-handed fop!" To her surprise, he grinned, which only annoyed her more. "What?"
"There is something utterly charming about you when you are angry." A spark lit his eyes. "It makes me want to be reckless, even though I know that I mustn't."
The Duke of Her Desire is a swoon-worthy brother's best friend trope with strong characters, danger at every turn, and a romance so genuine and true it will leave readers sighing happily.
"Dear God," he murmured, his lips caressing her cheek. "If you only knew what you do to me, Amelia."
"I wager it can't be much different than what you do to me," she whispered, her voice casting a web across the darkness.
I do so love an "older brother's best friend" story and this one had me enchanted right away. I will admit I didn't read book one, Amelia's brother Raphe's journey, so I had a bit of catching up to do. But Sophie Barnes gave enough background on the family and their rise in the ranks of Society to understand the struggles Amelia went through here. Seeing how differently she and Thomas, the Duke of Coventry, viewed things was one of the most interesting bits to me. She had a practical look on things, having grown up in the slums of St. Giles but she wanted to do something good, something meaningful with her life. I loved that about Amelia. She truly was a caring soul and had a wonderful way with children, which played into her future plans.
Thomas was also a caring person but he had the weight of his title on his shoulders and couldn't fathom some of the things Amelia–and even his close friend Raphe–had to endure in the past. I think it gave Thomas more respect for the Matthews family, whereas the Ton basically saw them as interlopers. He also had his difficult issues from the past to sort out which made him want to steer clear of courting women and bringing them home to meet the family. So when Amelia was brought into his circle and she got along so well with everyone, I was hoping that would bring them closer together. But Thomas and Amelia were nothing if not stubborn and I honestly did get a kick out of them bantering back and forth. There were a few frustrating times when I wanted to sit them down together and tell them to get over themselves (lol) but I think without those obstinate moments, their HEA wouldn't have been quite as touching.
Sophie Barnes knows how to build tension between her characters and capitalizes on it perfectly. Tender and heartbreaking, passionate and inspiring, Thomas and Amelia's romance was something to treasure.

Book Info:

Published December 26th 2017 | Avon | Diamonds in the Rough #2
He was only supposed to keep an eye on his friend's sister . . . now he's about to lose his heart . . .
When Thomas Heathmore, Duke of Coventry, agrees to steer his friend's inexperienced younger sister through society, he doesn't expect the lady in question to be so infernally stubborn. Amelia Matthews seems to have little interest in balls or suitors at all. Instead, she intends to open a school, and against his better instincts, Thomas offers to help. Yet somewhere along the line, Amelia ceases to be a simple responsibility . . . and becomes an undeniable temptation.
Since her brother inherited a dukedom, Amelia's prospects have transformed. But though she's long been secretly infatuated with Thomas, she refuses to heed the arrogant aristocrat's advice. If only it were as easy to ignore his heated touch. And as Amelia soon learns, the ton is a minefield, where one moment's indiscretion can unleash a scandal—or entice her to surrender everything to the duke of her desire . . .