In Reunited with her Parisian Surgeon by Annie O'Neil, Doctor Raphael Bouchon has struggled to deal with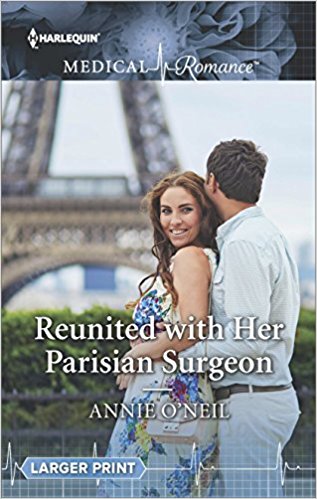 losing someone important to him, especially when he believes it was his fault for the young girl dying. So, in order to deal with the loss, he's been travelling from country to country using his skills as a doctor to help others. But now he's travelled down under and working alongside Maggie Louis — the woman he's never been able to forget. Will Raphael be able to convince Maggie to take a chance on him, even though he'll eventually leave to head home; or will the pair walk away from their chance at happy ever after?
"Well, you know…" His voice dropped an octave. "I didn't fly halfway across the world to stand outside a neon lit motel and talk about the past."
"Oh, no?" Maggie's lips curled into a flirtatious smile as her lids dropped to half-mast over those green eyes of hers. "Why did you come?"
"I came for you."
If someone had thrown a lightning bolt straight into her heart it would have had less of an effect. "Me?"
"Raphael nodded. "It's taken me a while to figure it out."
I always love reading Ms. O'Neil's books, and this one was an absolute delight to read, even though I couldn't help but want to cry for what the hero has been through in the past that has left him wracked with such guilt and grief and whether he'd be able to overcome it in order to have a future with Maggie. Will he be able to find a way to make things right with someone important to him? The way this story started had me loving how Ms. O'Neil introduces readers to the hero, as he's struggling to handle what happened with the loss he suffered that he blames himself for. However, it was from the moment the hero and heroine come face-to-face for the first time in this story that had me completely hooked, as Maggie and Raphael were once very close and it's so good to see each other again, because it's palpable they still feel so much for each other.
As for the dialogue, it was intense due to the main characters back stories and had me smiling due to the interactions between the hero and heroine that makes their strong chemistry shine. Moreover, I liked how strong and brave the heroine was when it came to getting the hero to open up to her in the way she pushes him when things got tough, because there's no way she'd give up on him. Yet, what I liked most of all was the relationship she had with her family and what they do for her that shows her how much they care. Really, the playfulness and protectiveness of her brothers had me smiling. While the hero, he's been through so much and I could understand why he was so determined to outrun his past, because he feels like he failed someone important to him. I also liked what the hero did to finally help him begin to heal because he needed to face his past before he and Maggie could ever have their chance at happy ever after.
"I am completely ready to be a true Australian."
Maggie couldn't help herself. She sniggered. Then laughed. Then outright guffawed. "Raphael, I don't think you could be a 'true Australian' even if you paddled backwards on a surfboard, dropped snags down your throat and chased them up with a slab of stubbies, all with a school of sharks circling around you. You're just too…"
Overall, Ms. O'Neil has delivered a really good read in this book where the chemistry between this couple was intense; the romance was great and shows how much Raphael and Maggie have missed each other; and the ending had me loving what Maggie's family do to show their love and make sure she lives her life for her instead of continuing to look out for her dad and her brothers. However, it was the epilogue that wrapped things up nicely, because Raphael and Maggie have come so far both professionally and personally and finding their way back to each other has certainly been good for them. I would recommend Reunited with her Parisian Surgeon by Annie O'Neil, if you enjoy second chance romances, the friends to lovers trope or books by authors Tina Beckett, Amy Ruttan, Amalie Berlin and Alison Roberts.
Book Info:

Publication: January 22nd, 2018 | Harlequin Medical |
Raphael's heart was lost…until he found Maggie again!
Brooding surgeon Dr Raphael Bouchon finds his way to Sydney and the one woman he has never been able to forget. As they work together, it's clear that Maggie Louis is the only one who can make him feel alive again. But Raphael must return to Paris and resolve his past before they can finally be together…