The Duke's Stolen Bride by Sophie Jordan is the 5th book in The Rogue Files Series. I haven't read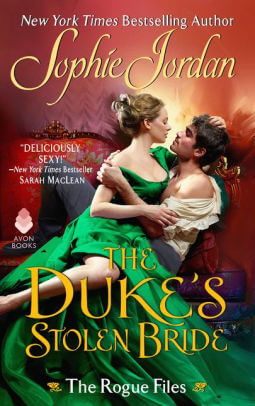 the other books in the series and this was a perfect standalone book. I love this author, but I must admit this was not one of my favorite books. It was well written, but I just could not connect with the characters and their emotions for some reason.
Marian Langley has returned home after her father's death to take care of her family. Her father had made no provisions for their future and they were barely surviving. They had many outstanding debts and their choices were limited. Marian has received a marriage offer from the town's blacksmith, Mr. Lawrence, but she could not tolerate him. Marian and her sisters wanted to marry for love as their parents did, but Marian has come to realize that reality was harsh. She had to do something to improve the situation and decided that being a courtesan would be better than being married to Mr. Lawrence. She would have more freedom and could choose who she gave her body too.
Nate, the Duke of Warrington, was known as the Depraved Duke. He preferred to hire courtesans who knew what they were doing and didn't want any emotional attachments from him. He had spent his childhood at school being bullied and as an adult he felt no need to socialize with his peers that had tormented him. He had married the goddaughter of a distant cousin and their marriage had not been as happy as he thought it would be. His wife and child had died during childbirth and he preferred to keep his own company now. He claimed to care for nothing and originally denied Marian's idea of him teaching her to be a good courtesan. But Marian intrigued him, and so he agreed to give her lessons.
As the lessons progressed so did their desire for each other, but Marian's choices were taken away from her when Mr. Lawrence interfered. She could marry him, or he would ruin her and her family. Nate's feelings were complicated, but he knew he could not let Marian be forced into marriage. He steals her away to elope to Gretna Green. Does Mr. Lawrence give up? Can the walls around Nate's heart be broken, allowing a loving marriage?
I was a little disappointed in the epilogue since it didn't really share a lot about the couple's future. It would have been nice to see how their marriage progressed and if Nate had gotten over his fear of childbearing. The ending did hint towards the next book being Charlotte's story. Would she take Mr. Pembroke back after he ended their betrothal or would she find someone more worthy of her?

Book Info:

Publication: October 22nd 2019 | Avon | The Rogue Files # 5
An urgent dilemma…
To save her impoverished family, Marian Langley will become a mistress. But she will not be just any mistress. Marian intends to become so skilled, so coveted, that she can set her own terms, retaining control over her body and her fate. Only one problem remains: finding a tutor…
A scandalous solution…
Other men deprive themselves of pleasure for propriety's sake. Nathaniel, Duke of Warrington, would much rather be depraved. He slakes his desires with professionals who ask nothing of him but his coin. Marian's proposal—that he train her without taking her virtue—is an intriguing diversion, until their lessons in seduction spin out of control.
And a most unlikely duchess…
When Marian is blackmailed into engagement by a man she despises, Nate impulsively steals her away. Though he never intended to take a wife, he can't tolerate the idea of Marian forfeiting her freedom to another. But can he bear to give her what she demands—a real marriage?