Welcome to Harlequin Junkie's
5th
Annual

Reader Appreciation
#BOOKMAS
EXTRAVAGANZA!
HJ's Bookmas Extravaganza is our annual celebration of YOU, our loyal and engaged readers of Harlequin Junkie blog and the romance community.
Thank You for all you do; for all the tweets, re-post, shares, comments. We <3 You!
From Naughty to Nice and Everything in between….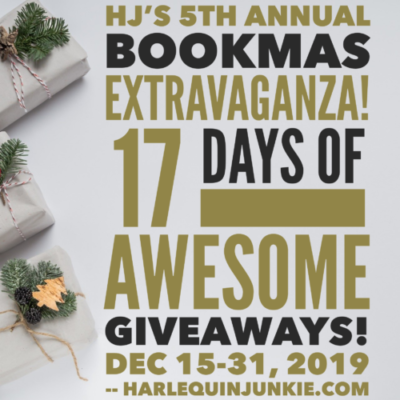 On the 13th Day of #Bookmas…
Harlequin Series Romance gave to me…. 

A chance to win "Everything you need to read" Harlequin gift box
In the spotlight today…



Harlequin publishes over 60 Harlequin series romances each month! Here are the descriptions of the imprints represented above, and their storyline guarantees.

Everyone loves romance novels! Sometimes it is just a matter of finding your niche.

What are you waiting for? Find your new obsession today!

Harlequin Intrigue: Dive into action-packed stories from Harlequin Intrigue that will keep you on the edge of your seat. Solve the crime and deliver justice at all costs.

Harlequin Special Edition: Believe in love. Overcome obstacles. Find happiness. Relate to finding comfort and strength in the support of loved ones and enjoy the journey no matter what life throws your way. Six new novels are published under this imprint each month.

Harlequin Dare: Take control as you step into stories of provocative romance where sexual fantasies come true. It's intense and liberating. Harlequin Dare—let your inhibitions run wild. Four new Harlequin DARE titles are available each month, wherever ebooks are sold.

Harlequin Desire: Luxury, scandal, desire—welcome to the lives of the American elite. Be transported to the worlds of oil barons, family dynasties, moguls and celebrities. Get ready for juicy plot twists, delicious sensuality and intriguing scandal. 6 novels are published under this imprint each month.

Love Inspired Suspense: Courage and optimism unite on the pages of Love Inspired Suspense. Find strength and determination in stories of faith and love in the face of danger.

Harlequin Romance: Immerse yourself in Harlequin Romance's uplifting love stories, where emotion and intimacy simmer in international locales far and wide. Experience the rush of falling in love.


Harlequin is a global publisher of commercial fiction and a worldwide leader in romance fiction, with titles issued worldwide in as many as 32 languages and sold in up to 93 international markets. The company publishes more than 110 titles monthly and more than 1,300 authors from around the world. Harlequin is a division of HarperCollins Publishers, the second largest consumer book publisher in the world with operations in 18 countries. For more information, please visit Harlequin.com and Facebook.com/HarlequinBooks. Follow Harlequin on Twitter: @HarlequinBooks.

Giveaway:

"Everything you need to read" Harlequin gift box:
Cozy reading blanket
Reading socks
Inspiring framable reading-themed poster
Classic Harlequin notebook
Classic Harlequin 3-notepad set
1 copy of A TALE OF TWO CHRISTMAS LETTERS by Cathy Gillen Thacker (Harlequin Special Edition)
1 copy of THE SECRET CHRISTMAS CHILD by Lee Tobin McClain (Love Inspired)
1 copy of RED CARPET REDEMPTION by Yahrah St. John (Harlequin Desire)
1 copy of DUTY OR DESIRE by Brenda Jackson (Harlequin Desire)
1 copy of SAFETY BREACH by Delores Fossen (Harlequin Intrigue)
To enter Giveaway: Please complete the Rafflecopter form and  

Leave a comment with your thoughts on the Series spotlighted here, tell us which one(s) you read or would be interested in reading?
Be sure to stop by everyday from Dec 15 to Dec 31 2019 for a chance to win: Box-O-books, Gift Cards, Audio books, Signed book bundles, Author Swag & more!