The Five-day Reunion (Once Upon a Wedding #1) by Mona Shroff: The day Nikhil Joshi arrives home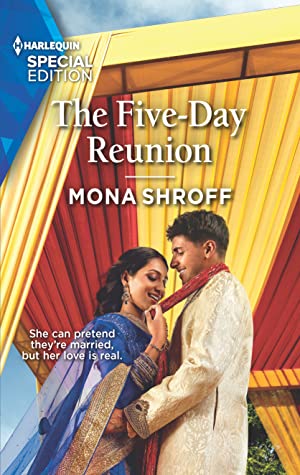 for his younger sister's wedding, he gets the surprise that his ex-wife, Anita Virani, was there. It is then that Nikhil discovers that his mother hasn't told his grandfather, who suffered a heart attack months ago, about Nikhil and Anita's divorce, so she has brought Anita to pretend to be his wife during the five days of celebrations. Though he believes Anita is doing it to pay off her college debt, he decides to continue the charade for his grandfather's sake.
Since the divorce was painful for them, it won't be easy to feign marital happiness. However, some truths about their marriage and about themselves come to light as they spend time together in their charade. In addition, love and passion reignites between them. Will Anita and Nikhil be able to give each other a second chance?
"What had gone wrong between them? Were they just too young at that time? Too selfish? Too immature?"
When they got married, they were both very young and focused on themselves. Anita had lost her parents and was looking for emotional stability. Nikhil was determined to forge his own path in life, even if it meant meeting the disapproval of the people he loves by not being part of the family law firm, as they wished. Divorce was the only solution to an untenable situation, but the love between them was still alive, despite being separated for three years.
"You know, neither one of you has ever said that you don't love the other anymore."
I loved the way the author decided to tell this story. Divided into seven parts—corresponding to the five days of celebrations, the pre-event conversation between Anita and her former mother-in-law, and the days after Nikhil's sister's wedding—the plot navigates Anita and Nikhil's failed marriage's memories mixing with the present, having the different traditional ceremonies of Indian weddings as an alluring background; presenting Anita and Nikhil's mistakes and successes, both as a couple and separately. Similarly, we see how family traditions influence the main characters' personalities while adapting to modern times.
On the other hand, the secondary characters, are perfectly created to complement Anita and Nikhil without overshadowing them at any time. I loved Nikhil's Dada; such a source of simple wisdom that captivates the reader.
This story emphasizes family values ​​and priorities, with colorful, credible scenes that show the richness of Indian traditions (not to mention the fact that the book takes place in the state of Maryland), a well-developed, excellent paced and mature plot, and with everything in its perfect place is the result of this story that I couldn't put down since I started reading it. A great storyteller, Ms. Shroff really surprised me, since this is my first book from the author. I'll wait expectantly for Anita's brother's story, of which we see several glimpses throughout this book.
Book Info:

Publication: January 25, 2022 | Harlequin Special Edition | Once Upon a Wedding #1
They ended their marriage, but they never fell out of love…
Law student Anita Virani hasn't seen her ex-husband since the ink dried on their divorce papers. Now she's agreed to pretend she's still married to Nikhil until his sister's wedding celebrations are over—because her former mother-in-law neglected to tell her family of their split! The closeness they share during the marriage act gives Anita new insight into the man she once loved so deeply. And reignites Nikhil's feelings for her…
From Harlequin Special Edition: Believe in love. Overcome obstacles. Find happiness.
Once Upon a Wedding
Book 1: The Five-Day Reunion
Book 2: Matched by Masala
"Shroff begins her Once Upon a Wedding series with a beautifully crafted, second-chance at-love-story that not only offers readers an intriguing window onto Indian culture but also deftly illustrates the universality of family dynamics." -Booklist on The Five-Day Reunion by Mona Shroff
"Divorcées pretend to still be married in Shroff's emotionally charged 'Once Upon a Wedding' series opener…. The wedding festivities force proximity between the couple and unearth buried feelings. But can love rekindle among lingering arguments about Nikhil's workaholic tendencies and Anita's career path? This question gives rise to a tempestuous will-they-won't-they that Shroff (Then There Was You) expertly balances with family drama. Fans of juicy, tropey contemporaries should snap this up." -Publishers Weekly on The Five-Day Reunion by Mona Shroff