The Fixer Upper by Lauren Forsythe: Marketing guru Aly, operates daily with the calm confidence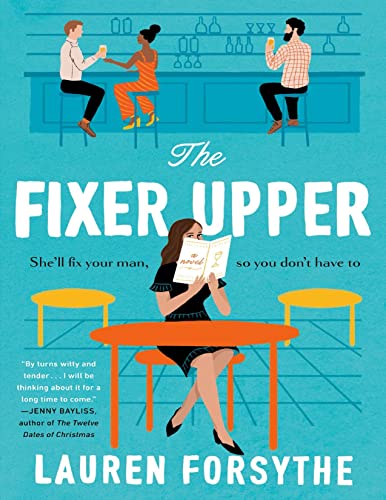 that she has truly settled into the type of self-reliance experienced as a well rounded adult. A go-to at her marketing company, on track to win the hard earned promotion, she truly believes she is living her dream – on track to achieve everything she wants and finally comfortable living in her own skin.
Except, cracks in her firm shell of belief begin to form when colleagues Tola and Eric point out her real super-power, not marketing, is fixing other couples by helping men realise the potential their partners have known all along. Naturally, the trio join together to trial a start up, engaging in some relationship problem-solving by helping others be their best-selves. Until, Insta-famous influence Nikki Kitty Litter comes along and a blast from Aly's past challenges her new-found concept of self and indeed her true morality.
In true romantic fashion, this perfectly paced tale warmed into its true tension by literally dipping its whole foot in Aly's past. Torn between trying to rescue her love-sick mother and saving her own heart, Aly finds herself stuck in quite the conundrum. Thankfully Eric and Tola, the best drawn side-kicks ever, have her back a thousand percent and it isn't until she is literally at her most vulnerable that she realises that falling in love and losing is where her true fear lies. Having modelled her concept of love on her grand-parents perfect relationships, Aly realises that she has been completely fooling herself – and those special Thursday night dinners she'd mastered to perhaps convince herself she had it all were nothing but perfect lies.
Unpacking relationships and the generational takeaways we carry with us from what has been modelled before, the gendered nature of love and the insecurities women model their lives on is the true reveal. And just when you think there is really no hope, a happily ever after comes along and literally takes your breath away.
From start to finish this was a winner, and with well drawn characters, friendships worth laying your life down for, this brilliant romantic comedy will have you laughing and cringing in all the right places. For those who love their love stories perfect just the way they are, this is definitely the read for you.
Book Info:

Publication: 2nd August 2022 | G.P. Putnam's Sons |
Ever since she can remember, Aly has been fixing everything around her: her parents' marriage, her colleagues' work problems, and her friends' love lives. After a chance meeting with an ex who has gone from a living in his parents' basement to a married project manager in three years, she realizes she's been fixing her boyfriends, too…
So, Aly decides to put her talents to good use and, alongside two work friends, sets up The Fixer Upper, an exclusive, underground service for women who are tired of unpaid emotional labor. Using little tricks and tips, Aly and her friends get the men to do the work themselves – to get out of the job they hate, sign up for that growth seminar, to do more parenting. Before long, a high-profile Instagram star hires them to fix-up her app developer boyfriend. There's just one catch – he's also Aly's childhood best friend and first love. As Aly tackles her biggest "fixer upper" yet, she'll have to come to terms with their complicated history and figure out how much to change someone she'd always thought was perfect as he is…