The Fling by Stefanie London is a sexy and fun opposites attract romance, and the author's second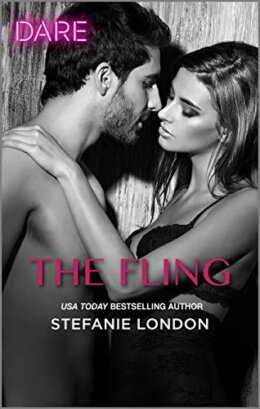 story in her Close Quarters series.
Home for her twin sister's wedding and dealing with picky co-bridesmaids, flight attendant Drew finds herself having 'one of those days' when she gets locked in the stairwell of her temporary apartment building. Rescued by a handsome businessman she refers to as 'Mr. Suit', their instant attraction to each results in an easy and steamy affair. But it's not long before Drew discovers that her bed-buddy is also best man Flynn, the man she's been corresponding and butting heads with to plan a Jack and Jill shower for the couple, his cousin and her sister. Now that they know each others real identities, will it make their affair fizzle or spark the possibility of something more?
Author Stefanie London provides a thoroughly entertaining and sexy tale, with likable characters who have to sort through their feelings to find out if they can make things last. Drew's sister Presley has always been the one that got noticed and as a result, Drew has never stuck around for too long at home and her last relationship was a bust. Even now she's scheduled to fly out right after the wedding and she and Flynn have an understanding that their affair has a time limit. They share some steamy love scenes all while discovering that they might be more invested in each other than they'd planned. Even when they discover that they've been at odds (and Flynn pulls off a formal party that Drew expects to be a costume party (ouch!)) it doesn't stop their attraction.
If you've ever been involved in wedding planning you'll appreciate Drew's frustrations with sorting things out, especially as she and the other bridesmaids don't always see eye to eye. An interesting part to the plot is that even while the wedding planning is going on, the reader isn't quite sure what to make of Presley's fiance, especially since he and Drew don't get along at all. It adds a layer of tension as the story progresses. While Flynn enjoys letting loose with Drew, he's a workaholic who is invested in medical research to help his niece and it soon becomes clear that he needs to find some balance in his life or it will pass him by – balance that Drew can provide if they can find a way to make their dreams of the future mesh. With some interesting twists and turns, the couple gets their happy ending and I look forward to reading more of the series.
Book Info:

Publication: Jan 01, 2020 | Harlequin Dare | Close Quarters #2
They're polar opposites…which only makes him more irresistible!
I swore off romance after my ex broke my heart, so I'm not thrilled to be home for my twin sister's wedding. Thank god for the delicious distraction next door: the anonymous 'Mr Suit'. After spending a sinful night with him, I discover my no-strings neighbour is the best man. We're complete opposites, but the chemistry between us is scorching hot…as long as no one gets burned.