Getting Off Easy is Erin Nicholas' latest Boys of the Big Easy book. This is a super fun, sexy read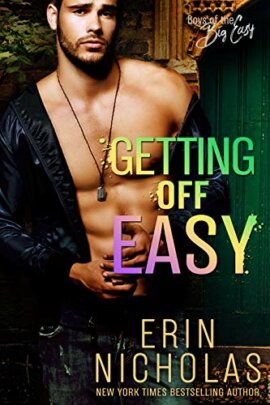 complete with great characters and some crazy situations.
Harper Broussard doesn't know quite what to think about her across-the-hall neighbor, firefighter, jazz musician and all-around-good guy James Reynard. He's super sexy and funny and seems to need a lot of help from her. He knocks on her door and asks her what she knows about ficus-ing. Ficus-ing?
Harper is a linguistics professor and she knows one thing for sure – ficusing is not a word. Plus James' "ficus" tree is actually an Arbequina olive tree. Next appearance is about the bearded dragon lizard left in front of James' door. The drop-offs at James' door get more complicated from there. Dogs to a baby. But, oh well! Harper's in for the duration.
I liked getting to see the characters from the previous books in the series and hearing again about the guys' Erotic Book Club made me smile. (Harper's stash of romance books sure is a great inspiration.) I love this author's voice and writing style. She is one of my one-click authors and this book is one of the reasons why.
Book Info:

Publication: January 14th 2020 | EN Fiction, Inc. | Boys of the Big Easy, #4
New Orleans firefighter, James Reynaud's true love is hanging out in the jazz clubs on Frenchmen Street and playing piano with some of the best musicians in the city. But driving his cute, bookworm neighbor Harper Broussard crazy is right up there on his list of favorite things.
The buttoned-up linguistics professor across the hall is a little older, a lot smarter, and way too good for him. And she knows it. But wow is she beautiful when she blushes.
She's equally gorgeous when she's saving his butt. Because now things just got serious. A baby has been, literally, dropped off on his doorstep and to say he's in over his head is an understatement. Not that Harper knows anything about babies either. But at least they now have something in common.