In The Flower Arrangement by Ella Griffin, Flowers have always been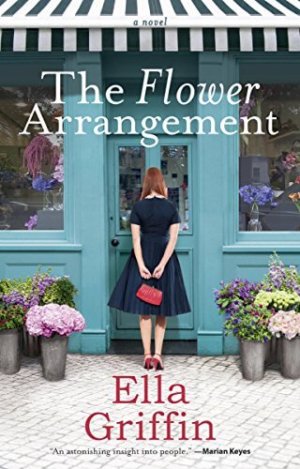 a part of Lara's life in one way or another. She somehow seems to be able to pick out just the right flowers to fit any given situation and for the recipient. And so after the loss of her unborn child, she changes careers and opens her own flower shop in a small Dublin neighborhood. Helping customers on a daily basis gives Lara something to focus on and she finds joy for the first time in many months since her life was upended.
'Lara had known since she was a child that flowers were a language, but what she hadn't realized was that she was a natural translator.'
Little did Lara know that she would soon face more life-altering changes and loss all over again. Or that it would be tough to even show up at her sweet little shop every day when it was once a great source of comfort. As she tries to pick herself up and put her life back into perspective, Lara sees that she's not the only one unsteady on her feet, and that the people in her small slice of Dublin each have something they are coping with on a daily basis as well. But maybe with the help of her family and friends–and of course flowers–they can hopefully bring some beauty and good feelings back into their days.
'A flower shop…was an emotional revolving door and you never knew what would come through next–love, sadness, guilt, joy. Lara could barely cope with her own feelings. The thought of trying to cope with someone else's was too much to bear.'
The Flower Arrangement was a highly emotional novel lush with details and full of sentimental, almost spiritual, moments. The intricate storyline was told from multiple characters' POVs, all of whom crossed paths at some point thanks to Lara and her charming flower shop.
I will start off warning readers of two things. First, this did not have a traditional HEA, being that it was women's fiction and not contemporary romance. It ended rather abruptly, with a lot still left hanging in the balance. Secondly, it was a story that might be difficult for some readers to handle. It deals mainly with various types of grief and loss, delving into some dark subject matter that could be triggers for some. (Miscarriage, loss of loved ones due to cancer and other illnesses, infidelity, drug use) So as you might expect, the tone was a bit on the somber side–although there were some absolutely lovely moments along the way that made up for the sadness.
The premise behind the story, with everything revolving around Lara's little Dublin flower shop, was a pretty intriguing one when I read the book synopsis. And the way author Ella Griffin was able to wrap all of the characters' lives around each other kept me on my toes trying to figure it all out. This really did feel like we got to know a good chunk of the neighborhood it was set in and the types of people who lived there.
Lara was the main focus and I loved that she was such a giving, compassionate woman. Unfortunately she went through more heartache during this story than any one person deserves, but she had her brother and a few friends to support her along the way. I thought her gift of being able to pick the perfect type of flower for each customer and their specific situation was incredibly cool. The way Lara could bring extra joy to certain events or to make a tough time in someone's life a little bit less difficult was very touching.
An interesting cast of characters and a chain reaction of events turned this story into a rather unforgettable experience. The Flower Arrangement was a well written, sometimes almost too real, look into those characters' turbulent lives.
Book Info:

Publication: Published October 4th 2016  | Berkley |
Drawing together a delightful cast of characters, Ella Griffin brings her warmth, wit and wisdom to this captivating tale of the connections that bring us all together.
Every bouquet tells a story. And every story begins at Blossom & Grow, a tiny flower shop in the heart of Dublin…
Among the buckets of fragrant blooms, beneath the flickering candles and lanterns, Lara works her magic, translating feelings into flower arrangements that change hearts and lives.
She is no stranger to the power of flowers herself. They gave her hope when she was a child who lost a mother, and, again when she was a mother who lost a child.
But old wounds take time to heal, and life has more heartbreak in store. What will it take for the woman who can unlock everybody else's emotions to open up her own heart?
READERS GUIDE INSIDE
From the Trade Paperback edition.