In The Girl with the Make-Believe Husband (Rokesbys #2) by Julia Quinn, After her father's sudden death and then receiving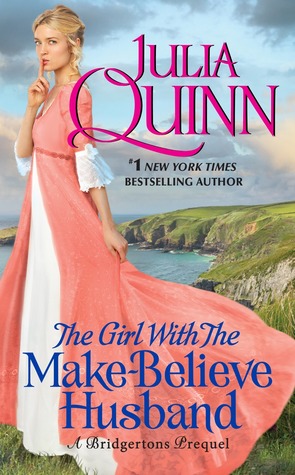 word that her beloved brother was injured in the war in America, Cecilia Harcourt has no choice but to journey to the Colonies on her own. With the British Army in disarray once she arrives in New York Town, she spends days trying to locate Thomas to no avail. But it is his close friend Edward Rokesby, who is also injured, whom she comes across. No one will allow Cecilia to assist him until she unthinkingly states that they are married. Assuming that she can straighten things out once Edward awakens, she never imagined that the lie would grow with each day. Or that she would fall completely in love with the man who she grew to know and admire through her brother's correspondence.
'It was so easy to be happy with him, so easy to be herself. But this wasn't her life. And she wasn't his wife. It was a role she'd borrowed, and eventually she'd have to give it back.'
Edward was shocked to find out that he was married to a woman he doesn't remember meeting in person but whom he had begun to care for via her witty letters. And he's frustrated that he can't remember several of the previous months, knowing that he'd gone on a mission but was unsure of how he took a blow to the head. Edward is thankful for Cecilia's care and her strength in dealing with his convalescence given that she must be worried about her brother Thomas being missing. But as Edward investigates Thomas's whereabouts and pieces together a timeline, bit by bit, he realizes that things aren't adding up with his lovely new wife. And while he's fallen madly in love with Cecilia, he knows he must find out the details of their marriage before he can feel satisfied with their future.
'He was falling in love with her. He'd already been halfway there before they had even met, and maybe he'd never remember the events that had led him to this moment, but he would remember this. This kiss. This touch. This night.'
Some book titles grab your attention and give you a nice glimpse into what the story will entail. That can definitely be said about The Girl with the Make-Believe Husband where one lie about a fake marriage started a cascade of events that changed our heroine's life forever.
So admittedly I'm not a huge fan of deception and lies in a romance novel. But author Julia Quinn actually did a good job of setting this story up, with Cecilia's timely fib, and made things seem not only plausible but as really the only course of action Cecilia could have taken. She had the best of intentions when she lied about being married to Edward, only wishing to help him recover from his injuries and to find information about her own injured and missing brother Thomas. I did end up getting a bit frustrated that she didn't tell Edward the truth sooner as it kept getting dragged out, but thankfully things worked out well in the end.
I loved the snippets of letters written by siblings Cecilia and Thomas that were included at the beginning of each chapter. It was a lot of fun and showed the progression of how she and Edward began to know each other via correspondence. And also how they were already a little bit in love with each other because of it. Edward and Cecilia's relationship was sweet and playful and I did so enjoy their conversations. I felt bad for him losing a chunk of his memory and for what he'd been through during the war. But Edward was an honorable man with both a sensual and a wonderfully tender side, which worked well when dealing with rather innocent Cecilia. She, I thought, was a very strong, independent woman with the courage to fight for those she cared about. She might have made some rash decisions, but Cecilia did the best she could with what little she had to work with as an orphaned young adult.
The Girl with the Make-Believe Husband was an absolute treat. A historical romance written not in the Regency era but during the American Revolutionary War, this had a mix of poignant moments one would expect during such a tumultuous time along with the sweeping, heartwarming feeling of falling in love.
Book Info:

Publication: May 30th 2017 | Avon | Rokesbys #2
While you were sleeping…
With her brother Thomas injured on the battlefront in the Colonies, orphaned Cecilia Harcourt has two unbearable choices: move in with a maiden aunt or marry a scheming cousin. Instead, she chooses option three and travels across the Atlantic, determined to nurse her brother back to health. But after a week of searching, she finds not her brother but his best friend, the handsome officer Edward Rokesby. He's unconscious and in desperate need of her care, and Cecilia vows that she will save this soldier's life, even if staying by his side means telling one little lie…
I told everyone I was your wife
When Edward comes to, he's more than a little confused. The blow to his head knocked out six months of his memory, but surely he would recall getting married. He knows who Cecilia Harcourt is—even if he does not recall her face—and with everyone calling her his wife, he decides it must be true, even though he'd always assumed he'd marry his neighbor back in England.
If only it were true…
Cecilia risks her entire future by giving herself—completely—to the man she loves. But when the truth comes out, Edward may have a few surprises of his own for the new Mrs. Rokesby.