The Good, the Bad and the Dumped by Jenny Colgan In trying to get her head around her significant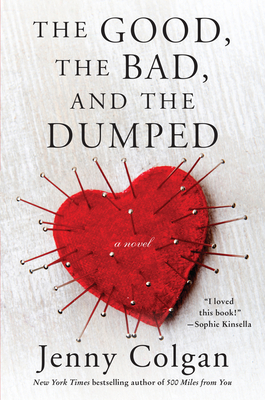 under-reaction to her own engagement proposal, Posy launches into a version of natural therapy of sorts, trying to uncover why she isn't over the moon about getting married to Matt, by reaching out to past loves and past lovers.
In some ways, Posy figures that gaining perspective on her past failed relationships, she may come to terms with the real reasons why her reaction to Matt's proposal is underwhelming. Despite being advised heavily against the re-connection with her past by her sister Fleur and best friend Leah, Posy travels throughout the UK to understand where it all went wrong with her previous lovers and why indeed she wasn't marriage material for them. And as predicted by Fluer and Leah, Posy self-sabotages to the point where she literally becomes a textbook manual for her psychoanalyst mother on what not to do in a perfectly fine relationship.
In many ways, Posy discovers more then she intended and after destroying her one chance at happiness, she begins to understand the true nature of love in both the unconditional and romantic sense.
From the onset, Colman's writing energy was punchy, if not a little under-described, punctuated by Facebook status updates and a clear thematic through-line of the grass is always greener – even if that grass is behind you. Ultimately therefore, there was a clear sense that whilst the past needs to remain behind us, there is deep purpose in using it to examine the here and now as a means of growing and learning. The quirky side characters however, were the real show-stoppers, along with the often dry and sarcastic British humour that balanced the car crash moments with a laugh. Throughout, Posy's self-sabotage mission was often infuriating, and yet her determination to figure out who she is and what she really wanted was indeed worth it.
For the most part this was a light read with some interesting observations about love, marriage, and the often unrealistic expectations we have of ourselves and of our relationships. Impressively, the happily ever after was a well-deserved one with some lovely warm and fuzzies at the end that served to remind us all that looking back can be a powerful way of helping us all move forward and hopefully onto better things.

Book Info:

Publication: 23rd March 2021 | William Morrow Paperbacks |
We all look up our exes on-line…but should we? Posy Fairweather is over the moon when her boyfriend Matt proposes in what is probably the most romantic way possible—on top of a mountain, in a thunderstorm, like something from a Nicholas Sparks novel. But a few days later he dumps her. Crushed and humiliated, Posy wonders why all her romances have always been such train wrecks.
Determined to gain some insight, Posy resolves to get online, track down her exes, and ask them. Which doors from Posy's past should stay closed? Which might open? Can she learn from past mistakes? And what if she has let Mr. Right slip through her fingers along the way?