In The Governess Game (Girl Meets Duke #2) by Tessa Dare, Through a series of unfortunate mishaps,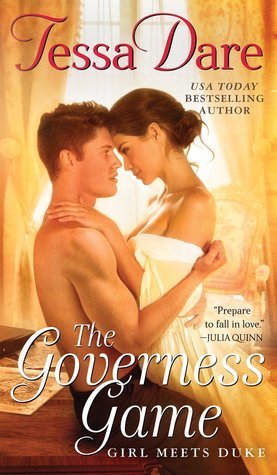 former timekeeper to the wealthy, Alexandra Mountbatten, finds herself with no option but to become a governess. And not to a respectable family, either. No, she will be forced to live in the shadows of known rake Chase Reynaud. He might be the heir to a duke, but he acts nothing like a gentleman should in Alexandra's presence, with his seductive words and the sparks of attraction firing between them. Not sure if it will be Chase or his two young wards, Rosamund and Daisy, who will give her the biggest challenge, she sets out to whip the trio into shape and hopefully turn them into a family. Alexandra didn't realize, though, that she wouldn't be immune to falling for all three of them. Or that she would have fanciful dreams of being part of that family herself some day, impossible as it might seem.
"You said…"
"I know what I said." Swaggering strides brought him close. "I said the thought of seducing you would never cross my mind." He swept aside her plaited hair and bent to whisper darkly in her ear. "I lied."
Chase knows he has a certain reputation as being a rake. That it's the first thing associated with his name, not being heir to a dukedom, is fine with him. He'd much rather be known for his prowess with the ladies than for his unconventional family history–that is, should anyone figure out the truth. When Chase is presented with two young orphaned girls to care for, he begins the search for the perfect governess. Well, actually, *any* governess who will not run screaming from his home because of Rosamund and Daisy's outrageous behavior. As much as he hates to admit it, Chase is becoming attached to the girls. And that simply won't do, because his first rule is no emotional bonds. Hiring prim Alexandra should fix the situation quickly, given her ability to speak the truth in an insightful, forthright manner. But Chase soon becomes captivated by the new governess, and no matter what he does, it is clear that he will not be able to let her go at the end of the summer when the girls should be heading to school. Nor can he imagine his life without his young charges. What is a gentleman to do?
"You are not my mistress."
"Then what am I?" Her voice quavered. "What am I to you?"
"You're…"
Everything.
A bitter smile curved her lips. "Don't strain yourself reaching for that answer."
"Bloody hell, Alex. I don't know what to call it… I just know I'll be damned if I'll let you go."
The Governess Game was an absolutely delightful historical romance, its pages filled with lively, witty banter, combustible chemistry, and offbeat characters I couldn't help but adore.
'It was plain that the most formidable obstacle in this entire endeavor would come in the shape of a mistrustful, strong-willed, ten-year-old girl.
So. The war of wills began here.
If she didn't want to leave the house penniless, it was a war Alexandra had to win.'
Tessa Dare always writes a fun story but there was something extra special about The Governess Game. Equal parts lighthearted and deep, there was such a nice balance about everything in this book. The heroine, hero–and even his two young charges–had all lived through some troubling times and were coping the best they could. I loved that Alexandra could see right through to the heart of Chase. She knew he cared for Daisy and Rosamund, that he wanted to do right by them but something was holding him back. And she was just as insightful with the girls themselves, knowing after her own tragic childhood that she would have to earn their trust and love. I got such a kick out of the girls' antics, particularly the daily pretend funerals for Millicent the doll. A bit morbid perhaps, but there was a reason for it (a few actually) and to me it just showed how smart young Daisy was, as she reached out for some comfort in her own way.
Chase and Alexandra frequently had me in stitches with their quick bantering and their denial of the attraction between them. (Just the names she came up with for what we would today call his "man cave" had me almost howling with laughter! Cave of Carnality, indeed! lol) They both made some mistakes of course, and I have to admit that I wanted to dislike Chase for being such a womanizer. But, again, there was a reason for his actions and things changed drastically with Alexandra entering his life. Their first two meetings were quite memorable, something I think readers will love, and had me laughing as it didn't bring out the best in either of them at first glance.
Seemingly shy Alexandra was smart as a whip–she was a timekeeper, how cool is that?–and constantly kept Chase on his toes. There was a lot more depth to him than I at first thought. His family history was a bit mucked up so it made him wary of becoming entangled emotionally. Something that started happening right away with Alexandra, which threw Chase for a loop. (Much to our entertainment) The pull between them was so strong, though, that they couldn't help but fall for each other, pulling the two young girls into the fray and becoming a stunning family by the end.
Wickedly funny and perfectly passionate, The Governess Game will be sure to please historical romance fans. I think Chase, Alexandra, Daisy and Rosamund will find their way into your hearts and will remain there for quite some time.

Book Info:

Publication: Published August 28th 2018 | by Avon | Girl Meets Duke #2
He's been a bad, bad rake—and it takes a governess to teach him a lesson
The accidental governess
After her livelihood slips through her fingers, Alexandra Mountbatten takes on an impossible post: transforming a pair of wild orphans into proper young ladies. However, the girls don't need discipline. They need a loving home. Try telling that to their guardian, Chase Reynaud: duke's heir in the streets and devil in the sheets. The ladies of London have tried—and failed—to make him settle down. Somehow, Alexandra must reach his heart . . . without risking her own.
The infamous rake
Like any self-respecting libertine, Chase lives by one rule: no attachments. When a stubborn little governess tries to reform him, he decides to give her an education—in pleasure. That should prove he can't be tamed. But Alexandra is more than he bargained for: clever, perceptive, passionate. She refuses to see him as a lost cause. Soon the walls around Chase's heart are crumbling . . . and he's in danger of falling, hard.