The Greek Tycoon's Pregnant Wife by Anne Mather: Demetri and Jane are still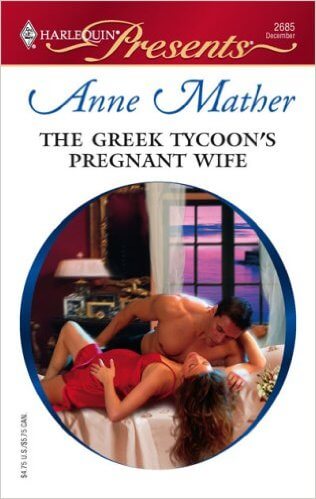 married, but living apart after Jane left him five years ago. Jane could put up with a spiteful mother-in-law and the demands of his business, but she couldn't deal with betrayal. Ever since leaving Demetri, Jane has lived in London and continued to work in the world of art. They haven't spoken since Jane left, so she was surprised when Demetri shows up out of the blue and demands to see her.
Seeing each other again is a huge shock. The attraction that initially brought them together is still simmering despite their differences. When Demetri demands a divorce, Jane is taken aback by how much this news hurts her. One thing leads to another and they end up in bed.
Their ill-advised night has consequences when Jane learns she's pregnant. Jane isn't quite sure what to do when he asks her to come to the island. Both are hurting and confused as Jane has to contend with her mother-in-law and the woman Demetri is planning to marry during her stay. Even with the next woman he plans to marry also staying at the family home, they can't quite resist each other.
"Won't you be with Ariadne?" she asked innocently, and was glad his family's presence prevented him from making the kind of response she deserved.
"After this afternoon?" he countered. "I don't think so."
When they aren't giving in to their desires, they are bickering as both are trying to protect themselves from further hurt. The past and Demetri's plans are still between them as an obstacle to any future happiness.
"Your humility didn't last long."
She smiled. "Perhaps that's because I like you better this way."
"Making a fool of myself, you mean?"
She caught her breath. "You couldn't make a fool of yourself if you tried."
The Greek Tycoon's Pregnant Wife has plenty of heat, drama, angst, interfering family, and misunderstandings in this second chance romance. There were a few scenes that seemed to be more confrontational or dramatic than necessary. Anne Mather provided two intelligent, yet stubborn characters in Demetri and Jane. Ms. Mather created a sense of anticipation whenever Demetri and Jane were in the same room. Fans of Sandra Marton and Sharon Kendrick will enjoy The Greek Tycoon's Pregnant Wife.

Book Info:

Publication: Published September 7th 2007 | Harlequin Presents | Greek Tycoons #50
The marriage was over… but what about their baby?Five years ago, Jane's marriage to Demetri Souvakis ended. Devastated and betrayed, she left him and started a new life. Now Demetri needs an heir and demands a divorce. But they have one last night together–for old times' sake….
However, that one last loving has dramatic results. How can Jane tell her soon-to-be-ex-husband that she's pregnant with his child?