The Greek Wedding She Never Had by Chantelle Shaw: I felt like I'd found my new favourite author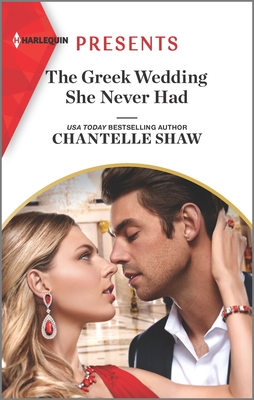 when I finished The Greek Wedding She Never Had.
Flashbacks help us learn that Eleanor is devastated when she overhears a phone call from the love of her life unveiling he's only marrying her to gain access to her family hotel. Walking out of the engagement and his life Eleanor thinks she and her broken heart are done. A year later Jace finds himself convincing Eleanor that if she marries him, he'll wipe her brothers gambling debts and fix all his terrible troubles.
Compassion shines through Jace quite early and his reasons for needing Eleanor are emotional drivers which were well explained. Jace's Mother added a good layer to his backstory. It's always intriguing to see how an author will redeem a blackmailing hero and I feel Chanelle Shaw nailed it. I loved the makeover and the resolution of the family vendetta which drove Jace to want the hotel.
I love over the top angst, drama and emotion but a well written good hearted hero is just as enjoyable and I feel the good side of Jace shone through early. I loved how Eleanor was written and I really felt her roller coaster life; she absolutely deserves a win. The love and caring for both parties is evident. I really enjoyed Jace and Eleanor's story. The intrigue between Jace's best friend and Eleanor's sister makes me "can't wait" for Book #2.

Book Info:

Publication: April 2021 | Harlequin Presents | Innocent Summer Brides #1
Reunions don't come much more explosive than this in USA TODAY bestselling author Chantelle Shaw's emotional marriage of convenience romance.
Twice a fiancée…
Finally his wife?
Eleanor Buchanan broke off her engagement to Jace Zagorakis a year ago. She discovered he wanted to marry her only to gain control of her family's luxury Greek hotel—on their wedding day! Now the devastatingly handsome tycoon is back with a second proposal.
This time, innocent Eleanor must say "I do" to save the hotel from bankruptcy…knowing their chemistry has lost none of its heat. But to act on that unexplored passion as his bride, Eleanor needs to know Jace's desire for retribution doesn't outweigh his desire for her…
From Harlequin Presents: Escape to exotic locations where passion knows no bounds.
Read both of the Innocent Summer Brides books:
Book 1: The Greek Wedding She Never Had
Book 2: Nine Months to Tame the Tycoon