The Greek's Nine-Month Surprise by Jennifer Faye: Greek billionaire Niko is not the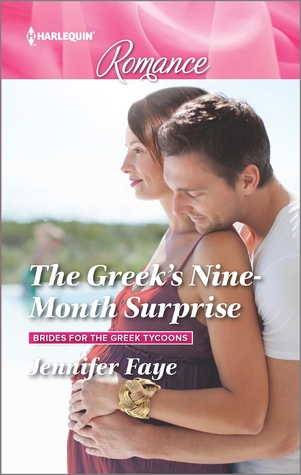 emotional type. He keeps attachments to the minimum and focuses solely on business to make his late grandfather proud. But when one of the best nights of his life turns up a pregnancy, Niko will have to step outside the comfort zone to woo the relationship-wary Sofia into marriage.
Sofia wants her child to have their father, but, despite her attraction, she doesn't want to lean on any man, let alone marry him.
As Niko convinces Sofia to take a business trip around the world with him as part of a quest from his grandfather, the sparks fly and they become closer and closer. But Niko keeps his shield up.
He leaned in close – real close. His breath lightly brushed over her neck, sending goose bumps down her arms. "Why do I get the feeling you're trying to take advantage of me."
She swallowed hard, trying to ignore the way he had her pulse racing. "Would that be so bad?"
"I never let anyone have the advantage."
"Maybe you should – think of all you're missing out on."
I can't say pregnancies work for me, but I definitely enjoyed The Greek's Nine-Month Surprise. I just found Niko adorable as he flounders his way trying to woo Sofia. He's never been in love nor does he want to be.
Sofia, too, I enjoyed since she wasn't going to compromise her beliefs. She was open to Niko, but she wasn't going to settle for anything less than love.
A cute story, I definitely recommend The Greek's Nine-Month Surprise for any pregnancy romance fan. A fun trip around the world, and I'm certainly interested in trying out the others in Faye's series.

Book Info:

Publication: June 7, 2016 | Harlequin Romance | Brides for the Greek Tycoons #2
The next Stravos heir…
For billionaire Niko Stravos, emotional detachment is an art form. So the last thing he expects is an out-of-character night with Sofia Moore, or the shocking consequences: he's going to be a daddy!
Niko persuades chambermaid Sofia to join him on a round-the-world business trip, determined to deal with his emotional turmoil. As Sofia's beauty and compassion touch Niko's heart, it's time to confront the past so he can convince relationship-wary Sofia that he wants a future!