The Greek's Pregnant Cinderella by Michelle Smart: Tabitha just wants to have her own home again one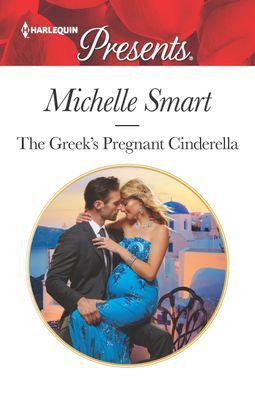 day. She's thankful for her job as a housekeeper at a luxury hotel that comes with lodging, but she doesn't want the insecurity of a home being tied to her job. She's hard-working, dedicated, kind, generous, and expects little of others.
Giannis is close to his family and puts up with their nosiness and freely given opinions. He's sexy, wealthy, and not looking for commitment. He keeps his promises and values loyalty and honesty in others. He's guarded when it comes to women, especially after his last relationship.
Tabitha has been working diligently with the rest of the hotel staff as they prepare to host a magnificent ball. She never dreamed of attending until the help of a fairy godmother grants her with a ticket and a dress. Tabitha is surprised when she catches the attention of none other than the hotel's owner and her boss, Giannis. It's a magical night, until her reality hits the next morning and even more so weeks later when she learns the consequences of that night.
Clear blue eyes ringing with shock stared at her. 'What?'
'I'm pregnant.'
'Pregnant?'
She nodded and finally expelled the breath she'd been holding.
Giannis and Tabitha shared a night that he can't forget, so he's shocked and not at all ready to hear that she's one of his employees and expecting. They are forced into a relationship for the baby and they don't know or trust each other. Spending time together helps, as their natural chemistry draws them together.
That feeling of having slipped through the looking glass hit her strongly again, the pebbled ground beneath her feet starting to spin. 'Marriage? You and me?'
'If you marry me, our baby will not want for anything.'
The Greek's Pregnant Cinderella is a modern-day Cinderella tale where opposites attract. Michelle Smart provided heat, heart, family, and surprises. Ms. Smart developed a great cast of characters in beautiful settings. Fans of Kate Hewitt and Jennie Lucas will enjoy The Greek's Pregnant Cinderella.
Book Info:

Publication: Published June 1st 2019 | Harlequin Presents | Cinderella Seductions #2
'You will go to the ball.' And be seduced by a billionaire…
Hotel maid Tabitha is stunned to be given a ticket to an elite ball hosted by Greek tycoon Giannis Basinas. It's meant to be a night of pure luxury. But this untouched Cinderella ends up in Giannis's bed – utterly pleasured! Making a hasty morning exit out the window, Tabitha expects to return to her ordinary life. Until she discovers her midnight mischief had nine-month consequences!