In The Heart Principle (The Kiss Quotient #3) by Helen Hoang, Classical violinist Anna Sun went from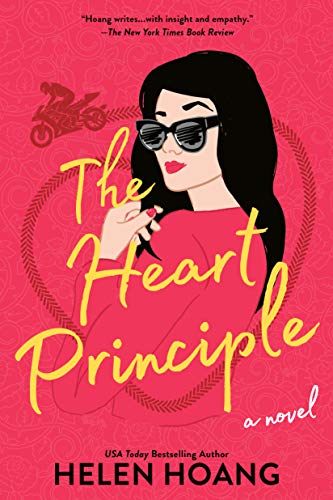 being a struggling musician to an internet sensation seemingly overnight when a chain of events threw her into the spotlight. But now, months later, she can't even complete practicing one piece of music without starting over and over. Anna is unsure if it's the pressure for perfection expected by her family and her newfound fans or if it is something more. To add insult to injury, her boyfriend, Julian, announces that he wants to date other people–just to "test the waters" before he and Anna settle down for good. Already feeling fragile emotionally, it's the final straw for her. And it leaves her angry enough to want to make some fairly drastic changes in her life.
'My desperation to please others deafens me so I can't hear the music the way I used to. I only hear what's wrong. And the compulsion to start over is irresistible.'
Anna sets out to have at least one, possibly many, one-night stands. Something she's never done before. What starts off as a way to get back at Julian soon proves to be nerve-wracking, but is a stepping stone to taking control of her life. Anna's first–and second and third–dates with sexy Quan Diep don't turn out as planned. But eventually they get their night together, although neither of them want to let go of the bond they've formed. Quan knows he needs to be careful with Anna. Particularly when her family life implodes. He's not afraid to fight for what he wants or what he knows is right–a trait that will come in extremely handy when he needs to show Anna and her family that he has staying power. And that he has her best interests at heart.
'In this moment, I think that if there was ever a woman who *needed* to be kissed, it's her.'
The Heart Principle was Helen Hoang's own life spilled onto the pages of this quirky-cute novel that was filled with a wonderful depth of emotion, personal realizations, and many laughs and tears along the way.
'All my life, I've been told that I need to change and be…something else, something more, and I try. Sometimes I try so hard it feels like I'm breaking.'
Trigger Warning: View Spoiler »Suicidal thoughts, terminal illness/end of life struggles. « Hide Spoiler
I'm pretty much an emotional wreck–not in a bad way–after reading The Heart Principle. No joke, I think I cried through the most of the last quarter of the book over Anna's personal and familial struggles as well as Quan's. There were some very dark moments. But overall, this was a tender story that built and grew as it progressed, showing the resilience of both lead characters and their sweet, passionate connection. It was a relationship that took Quan and Anna completely by surprise, given that they only wanted a one-night stand, and it ended up changing both of their lives in astounding ways.
Like I mentioned, Helen Hoang stated in her Author's Note that much of Anna's struggles were her own. And it came across very clearly to me while reading–before I even knew how personal this was for Hoang. It was the details of Anna's anxiety; of her constant need to be "on" when around other people; of how exhausted dealing with people's emotions made her. I know some readers might not connect with Anna if they've never been through anxiety or depression before, but for those who have or who know someone well who has, this will deeply affect you.
There's a lot I can't/won't mention about Anna's and Quan's personal issues. Discovering the details is part of the reading process and the way Hoang laid it out was just right. I did like both characters right away. And I think having this from both of their POVs really allowed me see how well they fit together, and it kept me cheering them on even when one (or both) of them messed up. It took some major changes for Anna to figure herself out as a woman and as a member of her rather traditional Chinese-American family. So don't give up on her if you get frustrated by her actions or inactions. Anna *did* find her way. And that powerful ending showed the best of her and Quan's personalities, that's for sure.
An incredible story that will linger long after it's finished, and definitely inspirational in its own quiet way, The Heart Principle took my heart over by storm and never let go. Top Pick!!

QOTD: Anna had trouble standing up for herself through much of the story. (There were two *big* reasons why) In such a situation, do you follow a book through to the end to see if the main character eventually does become bolder? Or do you not finish if it deeply frustrates you?
Book Info:

Publication: August 31st, 2021 | Berkley | The Kiss Quotient #3
A woman struggling with burnout learns to embrace the unexpected—and the man she enlists to help her—in this heartfelt new romance by USA Today bestselling author Helen Hoang.
When violinist Anna Sun accidentally achieves career success with a viral YouTube video, she finds herself incapacitated and burned out from her attempts to replicate that moment. And when her longtime boyfriend announces he wants an open relationship before making a final commitment, a hurt and angry Anna decides that if he wants an open relationship, then she does, too. Translation: She's going to embark on a string of one-night stands. The more unacceptable the men, the better.
That's where tattooed, motorcycle-riding Quan Diep comes in. Their first attempt at a one-night stand fails, as does their second, and their third, because being with Quan is more than sex—he accepts Anna on an unconditional level that she has just started to understand herself. However, when tragedy strikes Anna's family she takes on a role that she is ill-suited for, until the burden of expectations threatens to destroy her. Anna and Quan have to fight for their chance at love, but to do that, they also have to fight for themselves.