The Heir by Joanne Rock is the final installment in the author's Dynasties: Mesa Falls series. It's a story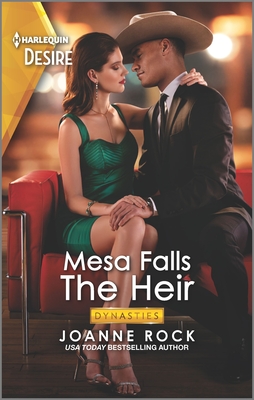 I've been anxiously awaiting as it ties up some of the loose ends from previous books in the series and it did not disappoint!
Nicole Cruz has been trying to find the identity of the father of her orphaned nephew. She knows that the bond between the men who run the Mesa Falls resort runs deep, and that one of them could be his father. She'd even managed to work at the ranch for a few weeks in order to investigate before being fired. But now she and her nephew have been invited to the resort, and she hopes it's to give them the answers they are looking for.
Rancher Desmond Pierce is one of those men, and he suspects the truth – that his deceased friend Zach, a young man who died under unsettling circumstances when they were teenagers is the boy's father. He and the men who run the resort started it as a way to memorialize Zach. He's determined to protect Zach's memory, but he also wants to figure out if Zach could have fathered a son, a boy that his mentor Alonzo had long been secretly supporting before Alonzo's death. When sparks fly between Nicole and Desmond, will their competing agendas get in the way of their growing feelings for each other?
I've enjoyed every book in this series (each has a complete couple romance) and the finale answers some lingering questions while giving a sexy romance between Nicole and Desmond. When Nicole's sister died and she took custody of her nephew Matthew, she started to investigate who Matthew's father could be, and she is sure it's one of the men who run the resort. But she's also discovered a link between her sister and Zach, whom she can't find any information about. It turns out this is deliberate, as Zach's death had been covered up by the school and his friends.
Desmond is determined to protect Zach's reputation but if it can be proven that Zach is Matthew's father, he feels it's his duty to care for him. Desmond's attraction to Nicole is inconvenient but he can't deny it, nor can she, leading to some sexy scenes between them. The story blends their romance with the uncovering of surprising revelations. I liked the characters, the plot, and this finale is a fitting end to the series.
Book Info:

Publication: Feb 01, 2021 | Harlequin Desire | Dynasties: Mesa Falls #6
Will he give her answers…
or tempt her to his bed?
Helping Nicole Cruz discover who fathered her orphaned nephew draws ranch and casino owner Desmond Pierce into the cruel legacy of secrets he'd rather avoid. Also unavoidable: the red-hot attraction sizzling between them. But the faster Nicole gets the answers she came for, the sooner she'll leave Mesa Falls. And that's suddenly a prospect more daunting than any scandals they may uncover…