The Heir's Unexpected Return by Jackie Braun: Brigit Wright had run from her ex and her former life to Faust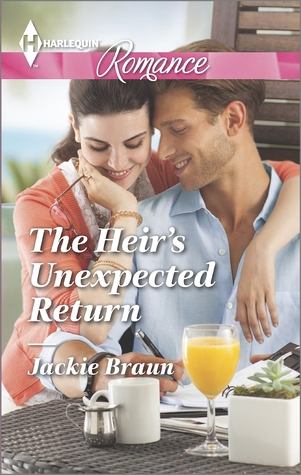 Haven and her new role as the Manager. She loved it here. She had raised profits by 300% since she had been here and was continuing to grow the profits. Then one day she gets an email and he is coming. The owner, the one she hasn't ever met is coming and planning on staying a while. Why?
Kellen Faust has been through an awful accident and may never fully recover, so he has a right to be angry, right? Then all of his "friends" start to fall away as they realize he is no longer the man he once was. So he decides it's time to run back home, the only place he has happy memories and create a new life for himself. So he returns to Faust Haven.
When Kellen and Brigit finally meet it becomes clear that there is going to have to be some give and take the only thing to decide now is who is giving and who is taking. However between the doctors, the physical therapists and life they both start to realize you only get out of something what you are willing to put in, but in the long run will it be enough?
The Heir's Unexpected Return by Jackie Braun is an amazing novel where the reader is actually allowed to see the painful process of two people growing, learning to love themselves and then love each other. While there are elements that seem a little far reaching this is one of the most realistic romances out there. You will feel transports to the Island and fall in love with Kellen as he goes through a dramatic life change.
Readers will enjoy this novel if they enjoy reading about a man who has hit his lowest point realize what he needs to be for him and then what he needs to be for her.
Book Info:

Publication: January 6th 2015 by Harlequin Romance Series #4457
He's back…but for good?
Playboy Kellen Faust had it all, until a skiing accident turned his life upside down. Returning to his family's luxurious island resort to heal, he meets resort manager Brigit Wright—she's pretty, she's blunt, and she has no problem putting her daredevil boss in his place!
The resort isn't just Brigit's home; it's her salvation. The connection she feels with new boss Kellen terrifies her…dare she trust that the prodigal Faust heir will stay by her side forever?